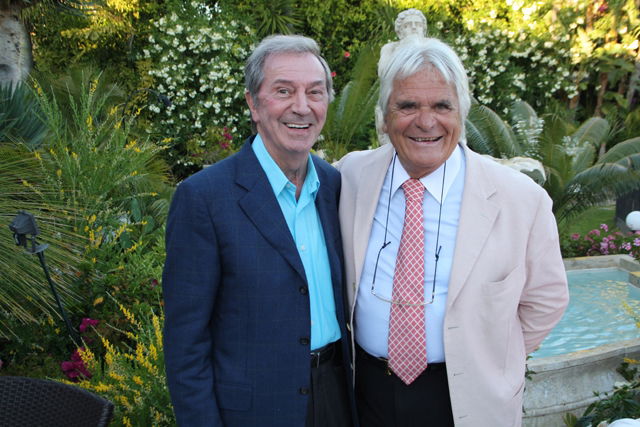 Des O'Connor, CBE, cabaret performer, comedian and singer, now in his 80s,has a personal reason for getting involved with the Special Summer Party at Villa Tiberio in aid of Children with Cancer UK charity.
As patron of Children with Leukemia, based in London, he knows only too well how important it is to raise money for sick children: "One of my daughters was taken very ill when she was little, she was rushed to Great Ormond Street Hospital. The care she received there was second to none, the staff were wonderful. So if me being at this event can put just one bum on a seat, I will be happy, although it will probably be only mine, I am, after all now known as the Elvis Presley of the blue rinse brigade! But I just want to help raise as much money on the night as possible.
"I have known Sandro (owner of Villa Tiberio) for many years, between us we have probably raised around £600,000 for charity. He is an amazing man, a longtime friend; I was delighted when he asked me to come along for the evening. I have no idea what I will be doing on the night, I am happy to do anything, although it will probably just be a bit of speaking; I will ask if anyone wants to ask me any questions, sort of a Q & A session, although that can lead to some quite awkward moments! I will answer just about anything, within reason of course, but I am not sure about singing!"
Over the years, O'Connor has recorded 36 albums and managed four top-10 singles including a number-one hit with 'I Pretend,' with global sales of more than 10 million records, he was even on Top of the Pops back in the day, a fact of which he is extremely proud, if a trifle bemused.
But this youthful octogenarian, father of five and now married to fourth wife Jodie, shows no sign of slowing down – this year alone he has 22 concerts scheduled and four television series in the pipeline. But he is adding yet another string to his bow, he has discovered his inner poet, inspired by son, Adam, now aged 10: "He came home from school one day and told me he had written a poem, it was about a glow worm. It was really good, and it got me thinking. So I started writing stuff about everyday life, I have been nursing the poem idea for a lifetime, and it has really taken off."
If you haven't already got your tickets for the event on Sunday June 8 at Villa Tiberio, there are still a few left, you had better start thinking about what question you are going to ask Des O'Connor. He has said he will answer just about anything. Or perhaps he will tell us some of his poems. Whatever he does, it will surely be worth watching.
For tickets and information please email caroline.randerson@hotmail.co.uk or telephone Villa Tiberio on 952 771 799.