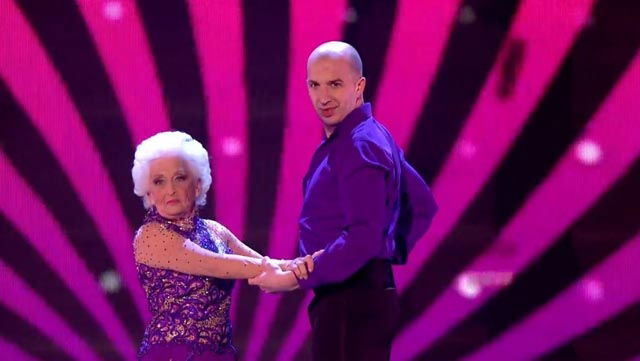 Saturday night saw the semi-final of Britain's Got Talent, with contestants battling it out for the final two places in the final. The stand-out performance came from 80-year-old Paddy Jones and dancing partner Nico, who wowed with their routine to Ricky Martin's She Bangs.
Last week it was reported that ex-pat Paddy would be unable to perform after she sustained an injury in rehearsals.
However, the dancer overcame her rib injury to dazzle the crowd – and the judges, who took to their feet to give a standing ovation.
Judge Simon Cowell said: 'Paddy, I salute your courage and everything about you. You did this for your country. To sustain that injury and you look amazing by the way sweetheart.
'You have that determined spirit and I think the British public are going to vote you through to the finals.'
Fellow judge Alesha Dixon said: 'What you have just done there is incredible. I respect you so much.'
Amanda Holden added: 'I adore you both and am so proud of you both. 
'To have done this overnight and put this together is utterly incredible. You are the epitome of Great Britain and something the Royal Family would just adore on the Royal Variety show.'
Related Stories:
'Britain's Got Talent' Paddy forced to leave after broken rib