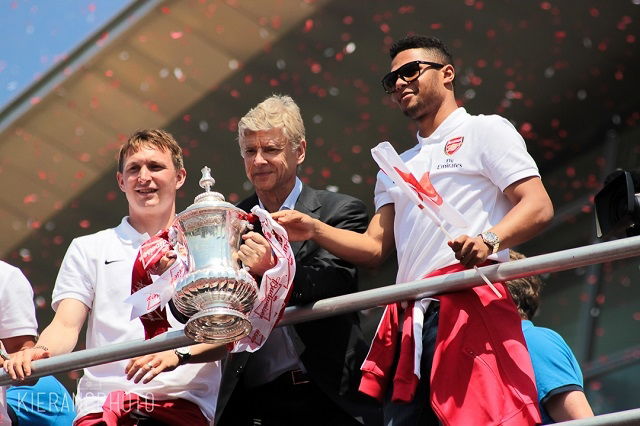 ARSENAL manager Arsene Wenger has signed a new £8million a year three year deal and vowed to build another 'great team'.
With a reported £100 million war chest at his disposal he will be looking to buy some big players this summer in order to mount a serious title challenge.
His team led the English Premier League for long periods in the season just finished but eventually dropped back to fourth – still enough to qualify for the Champions League.
An FA Cup triumph ended a barren spell since 2005 in terms of silverware. Since succeeding Bruce Rioch in 1996 Wenger has landed eight major trophies including three league titles. The board at Arsenal has kept faith in him, and it will feel vindicated that the development of the Emirates Stadium has been largely paid for by Wenger's record of qualifying for the Champions League for 17 years in a row, despite losing players such as Robin van Persie, Sami Nasri and Cesc Fabregas.
Wenger said: "The club has always shown faith in me and I'm very grateful for that. We have gone through fantastic periods and also periods where we have had to stick together. Every time when that togetherness was tested I got the right response. I think I have shown some loyalty as well towards this club and hopefully we can make some more history. I am sure we can."
The club's majority shareholder, Stan Kroenke, said: "Sustained excellence is the hardest thing to achieve in sport and the fact Arsenal has competed at the top of the game in England and Europe throughout the time Arsene has been manager is the ultimate testimony to his consistency of performance, talent and ambition. We are delighted with the FA Cup success which has added to his already outstanding record. Under his guidance we look forward to adding more trophies in future seasons."