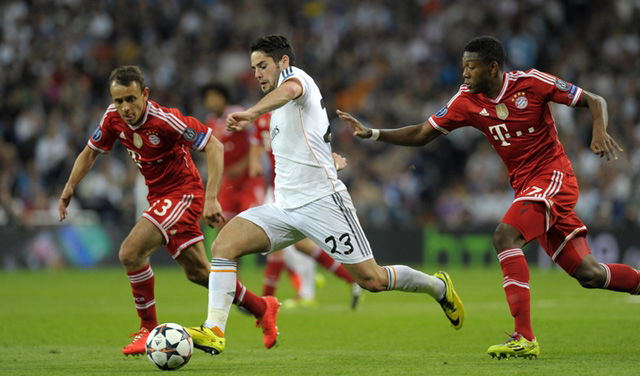 Champions League winners Real Madrid have been punished today (Friday) by UEFA for racist behaviour from fans during their semi-final match against Germany's Bayern Munich.
The club has been ordered to close a part of its Santiago Bernabeu stadium – sections 120 and 122 – for their first home game in the Champions League stage next season.
UEFA said in a statement: "Real Madrid are obliged to display a banner with the wording 'No to Racism' in those sectors."
The sanction comes after fans displayed a Nazi banner during the game which Real Madrid won 1-0 on April 23. Real Madrid beat Bayern 4-0 in the second leg Munich game.
Last Saturday Real Madrid were crowned Champions of Europe after they beat city rivals Atletico Madrid 4-1 to win their coveted 10th 'Decima' European title.
The UEFA ruling marks the latest racist incident in Spanish football. The highest-profile case saw FC Barcelona player Dani Alves targeted while his team played Villarreal.
Barcelona defender Alves responded to a Villarreal fan who threw a banana at him last month by eating the piece of fruit before continuing to play.
The Spanish league fined Villarreal €12,000.Villarreal ordered a stadium life ban for the fan, and said it will close a section when it plays the home game of a Europa League playoff in August.
Following this incident, Atletico Madrid fans were implicated in making monkey noises at Levante midfielder Diop during a league match.