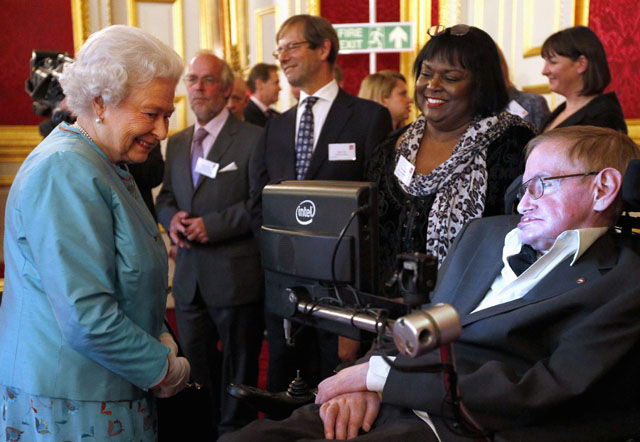 The Queen and world-famous scientist Stephen Hawking were among the stars who gathered in St James's Palace at a reception paying tribute to the work of the charity Leonard Cheshire Disability.
The Royal shared a joke with the world-renowned physicist at the charity event as they mingled to honour one of the country's leading charities for the disabled.
The Queen joked about the scientist's synthesised voice, saying: 'Have you still got that American voice?  – to which Professor Hawking wryly replied 'Yes, it is copyrighted actually'.
Both Hawking and the Queen are known for having a good sense of humour.
Founded by RAF pilot Leonard Cheshire in 1948 after he witnessed the Nagasaki nuclear attack, the organisation helps disabled people around the world gain an education, start businesses and campaign for change.
The Queen has lent her name to the charity since she became its patron in 1980.
Charity boss Claire Pelham said she was overwhelmed by the interest the Queen showed in their work.
Ms Pelham said: 'It is a huge honour to meet the Queen. I was absolutely amazed at how long she spent with every person – she didn't just whizz past people.
'I know she has always closely followed what we do.'
Other notable guests at the event included campaigner Esther Rantzen, broadcaster Fiona Phillips and former Olympic athlete Dame Mary Peters.
The Queen, accompanied by Prince Philip, mingled with guests at the glitzy event for around 45 minutes.
Hawking's humour has been on top-form this week. The scientist has unveiled a light-hearted formula which could help England clinch World Cup victory.
The Cambridge physicist highlighted a list of factors, including altitude, formation and temperature inside the stadium, which could hold the secret to England's success.