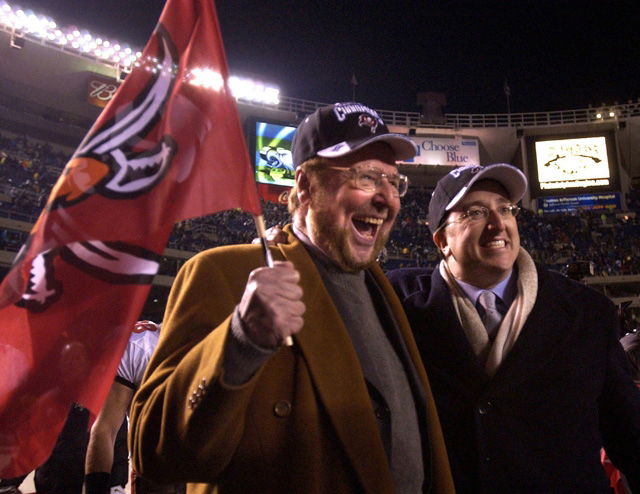 Malcolm Glazer, the billionaire businessman and Manchester United owner, has died at the age of 85. Glazer, who led the controversial take-over of the Premiership club, also owned the NFL's Tampa Bay Buccaneers.
According to his NFL team, Glazer died yesterday morning (Wednesday) at his Palm Beach, Florida, home.
He had been in poor health since 2006 when a series of strokes left him with impaired speech and limited mobility.
In a statement, the Tampa Bay Buccaneers said: 'The Tampa Bay Buccaneers are saddened to announce the passing of Owner/President Malcolm Glazer earlier this morning at the age of 85.'
Self-made billionaire Glazer purchased Manchester United in 2005. Since then the club has earned five league titles, as well as a Champions League title.
Glazer, who owned numerous companies and had substantial shares in a diverse portfolio of international holdings, has been a controversial figure at Old Trafford.
United fans have criticised Glazer and argued that the owner was shielded by the genius of long-serving former manager Alex Ferguson.
They also draw attention to the fact that, prior to the takeover MUFC had small debts but now it owes nearly £400m.
Glazer's sons, Joel, Bryan and Ed, have looked after the running of MUFC, including overseeing the appointment of Van Gaal to replace ill-fated former manager David Moyes, for years.
MUFC released a statement reading: 'Glazer's death is not expected to have any significant effect on the ownership of United, with the family retaining a 90% share in the club.
'The thoughts of everyone at Manchester United are with his family tonight.'