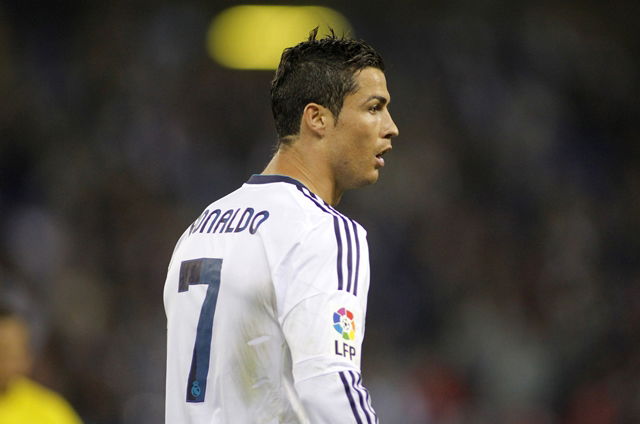 The top 10 world's most marketable football stars have been revealed and it's no real surprise that Portuguese player Cristiano Ronaldo is No. 1. The Real player has a staggering 82m fans on Facebook and 26m followers on Twitter. He won his second FIFA Ballon d'Or earlier this year.
Ronaldo, 29, is something of an icon, recently gracing the cover of Vogue España with his model girlfriend.
Just last weekend the Real Madrid star helped his team achieve history as they beat Atletico Madrid to win the Champions League and secure the coveted La Decima, their 10th win in the competition.
Four-time Ballon d'Or winner Barcelona's Lionel Messi, often hailed as the best player in the world (along with Ronaldo), is the world's second most marketable footballer.
The Argentinean is the club's star striker, earning the biggest pay packet in the beautiful game with around £16million a year.
Coming in third place is Gerard Pique, the Barca player who is perhaps best-known lately for being pop star Shakira's other half.
Chelsea player Fernando Torres makes it to fourth place while Manchester United's Wayne Rooney is fifth.
The list was put together by global sports market research experts 'Repucom'.
Paul Smith, Founder and CEO of Repucom said: 'With just over two weeks to go before the 2014 FIFA World Cup kicks off, the world's gaze is firmly on the competing teams and players.
"The World Cup is the most watched sporting event in the world and as such, big brands, official partners or otherwise, will and are using its global appeal to drive sales.
"Endorsements of celebrities, and in this case, footballers have an incredibly powerful way of doing just that, creating an emotional connection with a brand.
"The star can raise awareness and create a buzz for brands and products at a time when breaking through the marketing clutter that surrounds such huge events is critical for commercial success. 
Talking of the top choice, Smith said: "Ronaldo is an endorser's dream. His value is as important to the teams he plays for as they are for the companies that endorse him."
The Top 10 most marketable footballers are:
1. Cristiano Ronaldo
2. Lionel Messi
3. Gerard Pique
4. Fernando Torres
5. Wayne Rooney
6. Andres Iniesta
7. Neymar
8. Iker Casillas
9. Zlatan Ibrahimovic
10. Thierry Henry