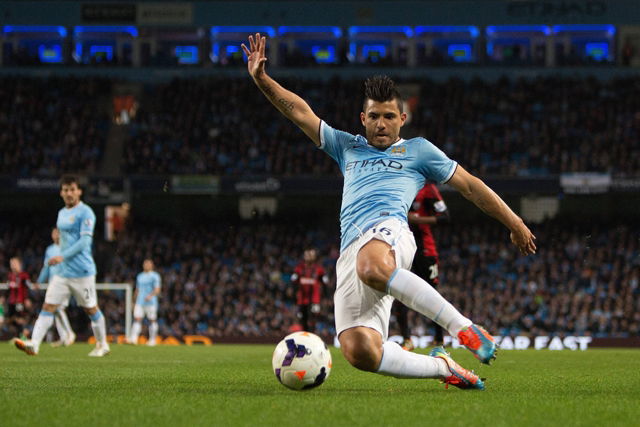 Manchester City player Sergio Aguero has joked that FC Barcelona's Messi dreams of being like him – not the other way around. Aside from teasing that international team-mate Lionel Messi aspires to be as good a player as him, the two Argentines are firm friends, with Messi reportedly asking Barca bosses to sign the Man City player this summer.
The Argentina forward interviews himself, discussing his international team-mate and the World Cup, in a video to mark the launch of PUMA Tricks boots.
However, star player Aguero looks set to stay in the UK, with Manchester City on a major winning streak.
The team won the Premier League – with defender Aguero's help, while Messi's Barcelona team lost the La Liga title in the final game after failing to beat victors Atletico Madrid.
When asked whether he thinks he can ever reach four-time Ballon d'Or winner Messi's level – whom he once said he aspired to be like – Aguero admitted his desire to be the greatest forward in football, before jesting that Messi has aspirations to be like him.
In the PUMA Tricks interview, Aguero says: "Let's hope I can one day be the best player in the world.
"But hang on a minute – I don't dream about being like Messi… because he dreams of being like me!"
Argentina will face Nigeria, Iran and Bosnia in the group stage, with the teams pipped to be easy competition for the side.
Aguero strongly believes that Alejandro Sabella's side can go all of the way at this World Cup in Brazil.
He said: "World Cups are always difficult, but of course I hope that Argentina will win. Of course I am confident that Argentina can win.
"Spain, Brazil and Germany are also pretty strong. They're all good teams, but games are there to be won.
"I don't believe Argentina have an easy group. At the World Cup there are no easy games."
Aguero also said: "If I fail to score in the group stage, I can keep believing I will score in the knockout stage, because that's already happened to me.
"It happened in Beijing at the Olympic games. I was in the starting XI throughout the group stage and I didn't score. Then in the quarter-finals I didn't score either, but the coach believed in me and in the semi-finals I scored twice. And, on top of that, against Brazil!
"So I know I will believe in myself because I have already experienced the exact situation.
"You have to stay calm and believe the goals will come. You might score loads of goals in the group stage and then none in the latter stages. Football is a strange game."
A number of players are set to sport the new PUMA Tricks boots in Brazil this summer.