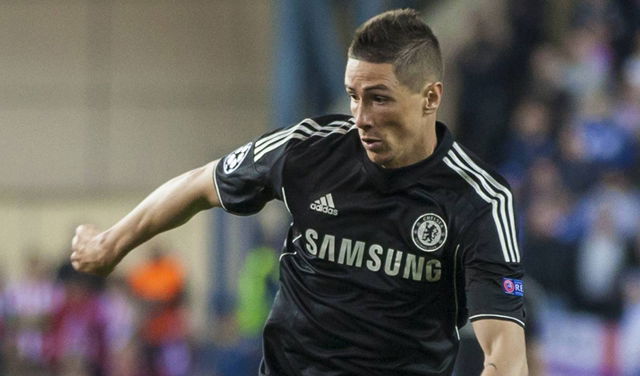 Chelsea player Fernando Torres, 30, has said that he's delighted to be a part of his country's World Cup team.
The player's inclusion in the Spain team for this summer's tournament follows a difficult year in the UK under the management of Jose Mourinho.
Chelsea striker Torres, who hasn't played for Spain since last year's Confederations Cup, looks determined to prove his worth ahead of the hotly-anticipated Brazil competition.
The Spanish star was a top scorer in the competition, netting five goals before the team lost out to Brazil 3-0 in the final.
Torres has won a place in the provisional squad despite a season marred by injuries and poor form.
However, Vicente del Bosque looks set to give the ex-Atletico Madrid player a chance, including him in his 30-man provisional list for the competition.
Torres, who scored just 11 times for Chelsea last season, has also made the cut for the 19-man team that will take on Bolivia in an up-coming warm-up.
Strikers like Atletico Madrid's Diego Costa and Juventus FC's Fernando Llorente have not been included.
Talking of his inclusion in the World Cup team, Torres said:
'It's very nice to be back with the national team. I've gone a year without being with La Roja, since the Confederations Cup.
'I knew that anything could happen. Yesterday, I was only hoping to hear my name. I knew that I could've been here or not, but now I have a better chance of being in Brazil. 
'It's been a difficult year but I finished the season very well. I'm grateful for the words of Vicente, who has valued my performances in the final phases. 
'There's always been a lot of competition here since the 2008 European Championships: (Fernando) Morientes, Raul, (David) Villa, (Roberto) Soldado, Negredo, now Costa…
'The level is very high, but we're not rivals, we're team-mates and whoever is chosen to play has the support of everyone.
'Now to fight during these days to be in the final list for Brazil.'
Spain manager del Bosque is said to be delaying his final line-up due to the fact that striker Diego Costa is currently injured. Costa left the pitch just ten minutes into the Champions League final match which saw Real Madrid crowned the winners with a 4-1 victory.
Torres said:
'On a personal level, it's been the same. But to be here (with Spain) is a great prize. 
'I've played less minutes than in other seasons and, maybe, that could be good to be better physically. I feel very good.
'I'm happy and looking forward to getting started.'