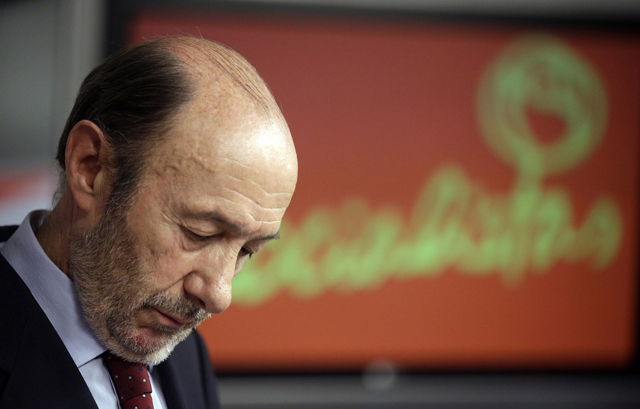 The leader of Spain's PSOE opposition, Alfredo Pérez Rubalcaba, has resigned.
Rubalcaba announced his resignation earlier today (Monday), following the EU Parliament elections which saw a backlash against mainstream parties in the crisis-scarred EU.
Alfredo Pérez Rubalcaba said he was quitting in order to take responsibility for his party's dismal showing in the elections.
The elections saw support for the Socialists drop to just 23%, down from 39% five years ago.
The ruling Conservative Popular Party also lost heavily, but managed to remain the largest party in Spain with 26% of the vote.
At a press conference to announce his decision, Mr Rubalcaba said:
"We have not managed to regain the trust of the citizens.
"We have to take political responsibility for the bad results, and this decision is absolutely mine."
His resignation comes after a difficult tenure that lasted less than three years. His position was marred by heavy election defeats and unfavourable personal ratings in opinion polls.
Rubalcaba was the leader in November 2011, when the party lost power and captured just 29% of the vote. However, this low point was not the worst moment for the party, which saw the Socialists lose further backing as the economic crisis intensified.
Spain's ailing economy and the Catalonia issue were two of the defining concerns for the party. Many feel that Rubalcaba's party failed to back Catalonia over its calls for a referendum on independence.
The recent elections have seen radical left-wing parties in Spain making gains, leading to the two main parties losing seats.