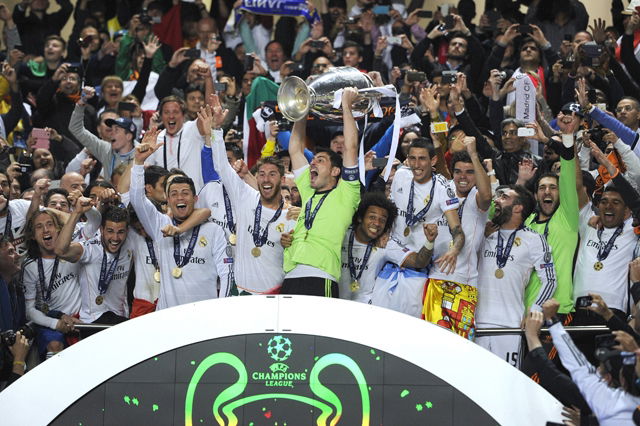 Saturday night saw the two Madrid football teams go head-to-head in Lisbon for the Champions League Cup, football's most prestigious competition.
Real Madrid triumphed over city rivals Atlético Madrid, winning the coveted 'La Decima', their tenth Champions League Cup.
It looked like Atlético had clinched it, scoring their first – and only – goal just 36 minutes in when Diego Godin headed the ball past a shocked Iker Casillas.
Sergio Ramos – who is being tipped for the Ballon d'Or – scored Real's first goal in the 93rd minute. The player headed the ball into the net in extra time, ensuring that the game would play on for half an hour more. It was Ramos' sixth goal in seven games.
Following the equalizer, Atlético just couldn't keep up with their opponents. It may not have been such a brutal game if striker Diego Costa hadn't gone off the pitch in the first ten minutes through a previously-sustained injury.  
Forward Gareth Bale, who cost the Spanish club a cool £85 million, scored in the 110th minute, his Di Maria-assisted goal being the jewel in the crown of a stellar first season at Real Madrid.
Real's Marcelo slotted in the third goal at the 118th minute, while Cristiano Ronaldo polished off the win with an effortless penalty (his 17th goal for the Champions League season) at the end against a devastated Courtouis.  
Superb keeper Casillas won his third Champions League title, being the only player remaining from the club's previous 2000 and '02 victories.
Real Madrid manager Carlo Ancelotti also ties the record with three European Cup victories as a coach, after winning in 2003 and '07 with AC Milan.
Ramos was the star of the game, setting in motion a win that is destined to go down as history.
Of his game-changing strike, the player said: "It's the most important goal I've ever scored. We made history against a great rival."
Last night (Sunday) Los Blancos fans celebrated the Champions League win at the Bernabéu with a spectacular show.
Some 50,000 fans flocked to the stadium to see the players following the club's record 10th European Cup. The city had been waiting 12 years for this party – and it was sure to be celebrated in style.
The show was complete with an open-top bus parade through the city, a fantastic laser display, fireworks, streamers, confetti and communal singing. Queen's 'We are the Champions', along with 'Hala Madrid' were the anthems of choice.