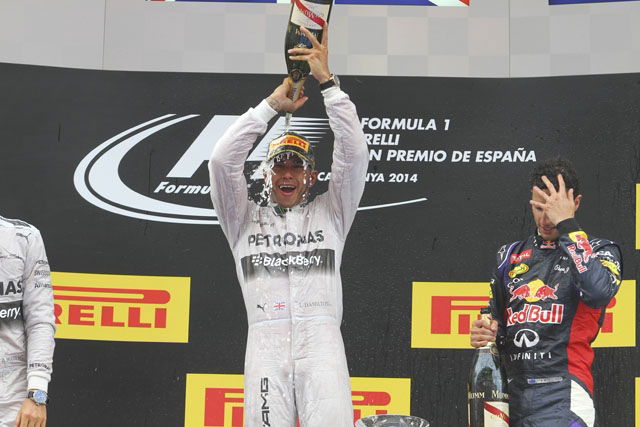 Mercedes team-mates Lewis Hamilton and Nico Rosberg are going through a rough patch.
And, reportedly, the F1 pair's relationship was at breaking point before the Monaco Grand Prix, hitting a few bumps in the road a fortnight ago in Spain.  
The breakdown in relations was made public in the wake of Rosberg's controversial pole position in Monte Carlo, but it has been alleged that the pair had already fallen out after the Barcelona race.
The main issue was said to be the fact that, in a bid to maintain his lead, Hamilton went against team protocol and turned up his engine settings to maximum performance in the closing stages of the race.
This move was said to have left Rosberg feeling that he had been robbed of a chance of victory through unfair means and Hamilton was allegedly forced to apologize.
With tensions already running high, it is no real surprise that Monaco revealed problems in what had seemed a match made in F1 heaven.   
Mercedes boss Toto Wolff said: "It was the other way around on the Sunday in Barcelona," talking of his drivers' suspicions of each other.
"Nico had felt aggrieved by what had happened in the race and I guess this is really normal.
"Everybody has their own absolute reality, and absolute belief. And I guess it is like arguing with somebody. You think you are right and the other person thinks he is right. It is never black and white. There is sometimes grey."
Brit driver Hamilton revealed after the Monaco GP that Rosberg had used a similar aggressive engine setting in a bid to snatch victory in Bahrain.
The actions of both drivers have now forced a clampdown, with neither allowed to play around with mappings settings on their own any longer.
Wolff declared: "It's never going to happen again.
"I think they are probably exploring how far you can step up above the line and what the consequences are. But isn't that normal?
"You have a chance of winning the championship and as long as it is not detrimental to the team spirit, as long as it is not underhand, we will handle the situation in the way we did before.
"The moment it goes in the direction where we believe it is not the spirit of Mercedes Benz we will act accordingly."