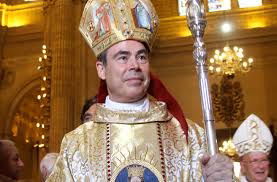 The funeral has taken place for the Malaga National Police officer, Francisco Jiménez Díaz, 33, who was stabbed on Wednesday.
The Bishop of Málaga, Jesus Catala, presided over the Mijas funeral.
The man who stabbed him was reportedly a homeless man who had 22 previous convictions on his police record.
The attacker, who is said to suffer from psychiatric problems, had been arrested previously for violent crimes such as assault on figures of authority.
Officers were called to the scene at calle Frigiliana in relation to a case of abuse. Two officers from the Unit for Prevention and Response (UPR) of the National Police went to the scene.
Reportedly, the officers tried to talk to the man, who, without saying a word, stabbed Díaz in the chest.
The 37-year-old knifeman allegedly tried to flee but officers on the scene fired and managed to detain him.
Francisco Diaz, who had a young daughter, was taken to Carlos Haya Hospital where he later died, despite numerous attempts to resuscitate him.  
The homeless man suffered four gunshot wounds and multiple cuts, but all injuries are superficial. He was taken to hospital for treatment. 
Related Stories:
Malaga officer dies after stabbing