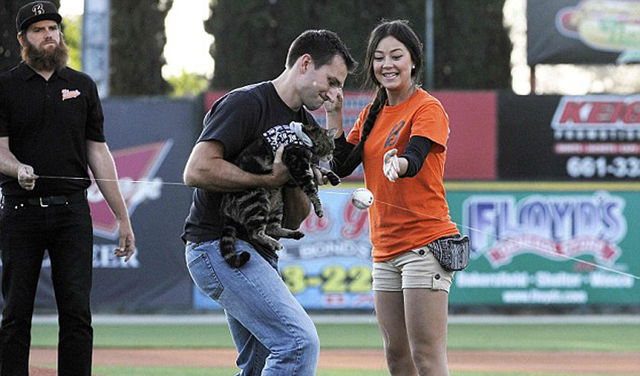 The fearless feline that rescued her owner from a vicious dog attack has made her baseball-game debut.
Daring family-cat Tara saved four-year-old Jeremy Triantafilo in Bakersfield, California.
The incident was captured on the family's CCTV and, after being uploaded to YouTube, it went viral, being viewed over 20 million times.
Jeremy Triantafilo, who needed stitches after the neighbour's dog attacked him while he was riding his bicycle on his driveway, called his brave cat 'his hero'.
Staff at the Bakersfield Blaze's stadium stepped in to help Tara throw her pitch after a fishing wire trick was largely unsuccessful.
The spectacle drew huge crowds to the stadium, where the Bakersfield Blaze were playing the Lancaster Jethawks.
Jeremy's mother Erica Triantafilo, who presented Tara to the crowd with her husband Roger, said: "Being the mother, every time I watch (the video) it stops my heart for a moment.
"Things could have been much worse without her. We're just so thankful."
Related Stories
Rescuer cat gets baseball offer
[iframe width="560″ height="315″ src="//www.youtube.com/embed/nSM7L6b1Dgg" frameborder="0″ allowfullscreen ]
Media: YouTube/ITN.