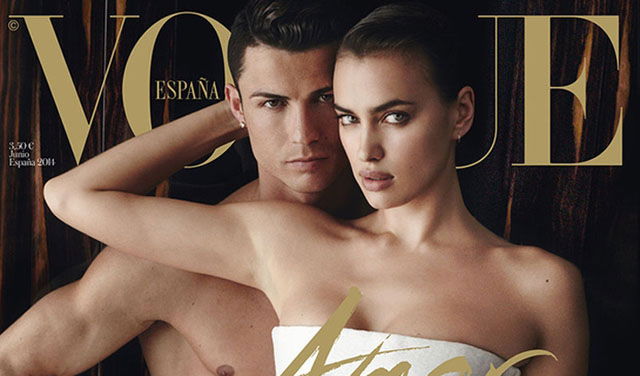 Cristiano Ronaldo and supermodel girlfriend Irina Shayk are the cover stars for the June issue of Vogue España. 
Photographed by legendary Mario Testino back in March, the Real Madrid superstar player and his Russian model partner make the ideal power couple for the glamorous and racy shoot.
Ronaldo, world footballer of the year, and Shayk, who have been together since 2010, were the ultimate choice for the issue, with its 'Amor & Fútbol', ('Love and Football') theme.
Ronaldo, who is set to be the star of his Portugal team at this summer's World Cup in Brazil, was scheduled to play in the La Liga match against Espanyol that saw a 3-1 win, but was pulled at the last minute.
The win saw Real Madrid finish the season level on points with Barcelona.
The player was kept off the pitch moments before kick-off amid concerns over a hamstring injury. 
Next Saturday in Lisbon Real Madrid will be chasing their 10th European Cup title in a hotly-anticipated match with Atlético Madrid.