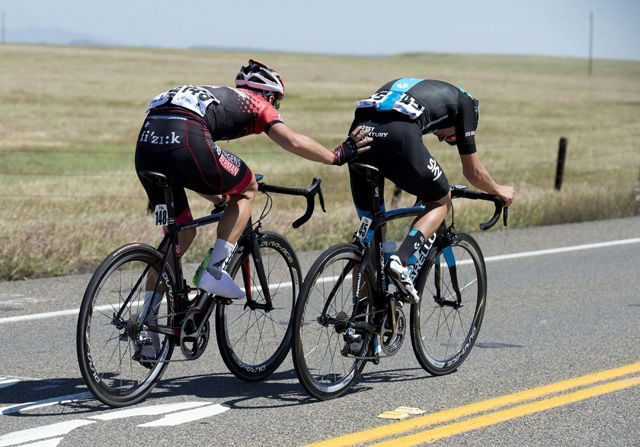 A Spanish cyclist celebrated winning the Tour of California – but he was one lap early and ended up finishing 56th!
Eloy Teruel was certain that he'd won the seventh stage of the cycling competition in Pasadena on Saturday, pumping his fists in triumph as he crossed the 'finish line'.
However, Teruel was sadly mistaken and had one lap to go. He ended up finishing the race in 56th place.
Joy quickly turned to embarrassment as it became apparent that the race wasn't over. There was another lap of a 3.1mile (five kilometres) circuit left to pedal around.
Teruel saw the funny side of his blunder, tweeting:
'I wanted to win, luckily no one has seen. Hahahahaha.'
The real winner was Peter Sagan of Slovakia and the overall winner was the UK's Bradley Wiggins.
Former Tour de France winner Sir Bradley Wiggins said on the Team Sky website: "I say it every day, but without those guys I wouldn't be in this position. 
"You can't do it on your own and, as strong as my performance was individually in the time trial, my team have taken the strain all week.
"Those young Americans in my team, Joe (Dombrowski), Ian (Boswell) and Danny (Pate) have done a fantastic job. Even today they didn't give up the chase and came back after they'd been distanced on the climbs. This is a fantastic way to finish."