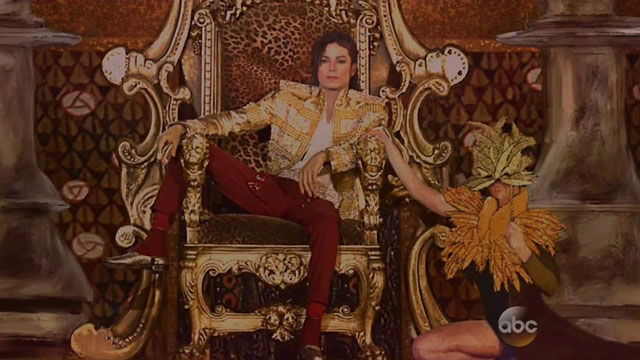 Guests were treated to an unexpected spectacular surprise guest at the Billboard Music Awards in Las Vegas.
A Michael Jackson hologram was the star of the show, complete with the late King of Pop's trademark moon-walking moves.
The hologram star performed Slave to The Rhythm, a song from Jackson's new post-humous album Xscape, which is based on the singer's music that went unreleased during his lifetime.
The pop star's digital image wore a gold jacket, white tee and red trousers, appearing on stage with dancers and pyrotechnics.
The crowd went wild at the dazzling digital display, with the performance being the undeniable highlight of the show.  
LA Reid, who worked on the Xscape album, said: "We tried to do as best we could what we thought Michael would have loved, and those of us who knew Michael really well, we had a good perspective on it."
After lawsuits were filed from companies with the patents to the hologram technology, it wasn't clear if the Jackson part of the show would go ahead.
But on Friday a judge ruled that the awards ceremony would be permitted to use the singer's image.
Pop singer Jackson died in 2009 from an overdose of anaesthetic propofol.
Singer Justin Timberlake took home seven awards from the ceremony, including 'Top Artist' and 'Billboard 200 album'.
The pop sensation joked: "All the other finalists, Miley, Imagine Dragons, Bruno, Katy, I love you guys, it's not a competition, but if it is, I won!"
Jennifer Lopez won the Icon award which she received from Ricky Martin.