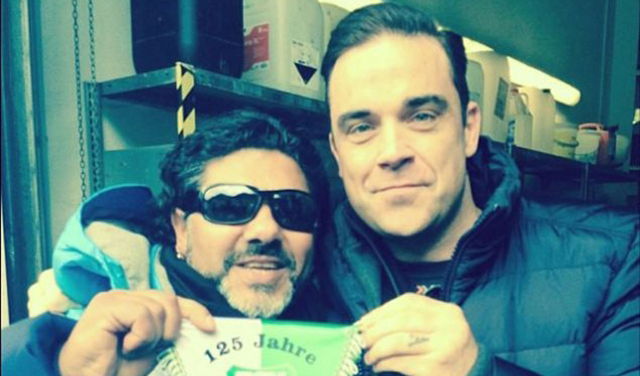 UK pop star Robbie Williams has been caught out after boasting of a bizarre mountain-top meeting with Maradona – who it turns out was a look-alike.
Former Take That star Robbie, 38, thought he'd ran into World Cup superstar Diego Maradona at Ischgl ski resort in Austria.
Williams, who was in the ski resort on May 3 to play the Top of the Mountain Concert, reportedly jumped out of a van and rushed over to 'Maradona', pronouncing "I love you".
But it has now been revealed, nearly two weeks later, that the Maradona doppelganger was a 49-year-old German impersonator called Abi Atici.
Williams took to Twitter to declare: "How random, just bumped into Maradona on the mountain. RW x."
The singer also posted a photo of himself with the double, who has been working as a look-alike for 20 years, and said: "The Hand of God meets God. I wish he was playing this year's Soccer Aid! #Maradona."
Mr Atici has said: "Robbie really didn't realise I was not the real thing
"Both Robbie's dad and Ayda took their phones and snapped pics of us together. I never thought such a world famous star would fall for my double act. It is sensational. It all happened so quickly. I will never forget that day!"
Embarrassingly, Williams has met the real Argentinian football legend Maradona back in 2006 at a charity football match in aid of Soccer Aid.
The event raised over £6 million for UNICEF, with Robbie Williams as captain of the winning team at Old Trafford.