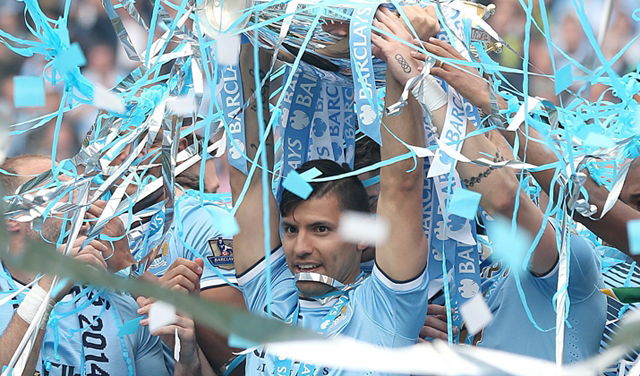 Manchester City player Sergio Aguero has confirmed his intention to stay with the UK team next season, claiming to be "so happy" at the Etihad club.
Aguero, who has had bouts of injury this season, crushed rumours of a move to Spain's FC Barcelona after his team won their second title in three years.
Talking after the club's Premier League triumph, the Argentinian forward told Sky Sports:
"I'm so happy. It was an amazing moment to win another title. I'll be back next year even stronger to win more trophies."
The comments put a dampener on speculation that the player could be considering a move to Spain after being named on Barcelona player Lionel Messi's wish-list.
Reports also indicated that Messi had demanded that goalkeeper Pinto secure a contract renewal.
However, Messi's father and representative, Jorge Messi, denied the claims when he told Marca:
"Firstly, the meeting focused more on broader contractual matters than exact figures".
"I cannot combine an improved contract for my son with demands to sign a player or offer another a new deal."
Despite bouts of injury Aguero has been a tremendous asset to his City team. He has been a consistent key player for Pellegrini.
Aguero secured 23 goals and eight assists in 29 appearances this season, highlighting his undeniable effectiveness.
Following his team's win Aguero took to Twitter to say: "Champions! Once more comes that amazing parade down the streets of Manchester, for our fans. Thank you all for the love! #TOGETHER".
Aguero is expected to take a starring role during Argentina's World Cup 2014 campaign this summer.
The country will first play Bosnia and Herzegovina, Iran and Nigeria, and are expected to triumph in the favourable group.