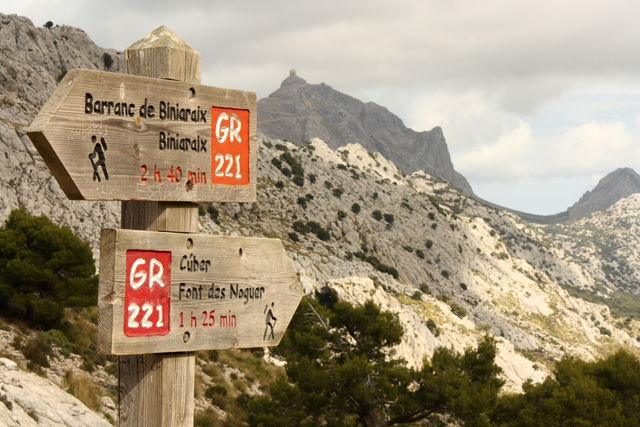 If you'd told me a few years ago that I would be partial to a hike in the Great Outdoors, I would have assumed you were deluded.
Yet, here I am, a paid up and willing member of a hiking group. Having said that, it has been a bit of a slow burn, love/hate relationship.
My first outing a couple of years back, as a newbie expat in Spain and novice hiker, didn't end too well. I was ill prepared, certain that my faithful gym trainers would suffice and considered myself tooled up with a small bottle of water and a book of walking routes.
I assumed that we'd reach a quaint little hilltop cafe, that nature would not call on route, and that the guidebook would be blindingly simple to follow, thus not leading to wrong turns that doubled the allocated walking time and made us scale sheer rock faces that may have been a real path once upon a time; specifically the dinosaur era.
Treading through unknown shrubbery and woods, I was beginning to wonder if we'd ever find our way out. News stories of hikers trapped on mountains overnight, surviving by making a fire to huddle around sprung to mind.
If only I had been a smoker, I would have come prepared with a lighter. Or been a girl scout.
Further into the woods, with no clear path in sight and no reception on the mobile, images from the 90s horror movie, The Blair Witch Project began to prey on my mind.
Was that pile of twigs and branches a mere coincidence…? Perhaps the elements were not our only enemy on this ill-advised hike…
In the end, we found the path as 'Google maps' finally blinkered into function. Since then I have gone on many hikes with joyful sights of spring lambs, forests like one might expect in a Lord of the Rings movie, complete with quaint little 'hobbit' houses and amazing views across beautiful landscapes that made the producers of great films such as the Cloud Atlas choose Spain to film.
So, if you haven't taken a hike yet, take my advice and do so. Just make sure you go prepared, proper boots, compass, map, a small first aid kit, lots of water and snacks.
I still have not needed the lighter I ritually bring – or a distress flair – so far, so good, so see you at the peak?