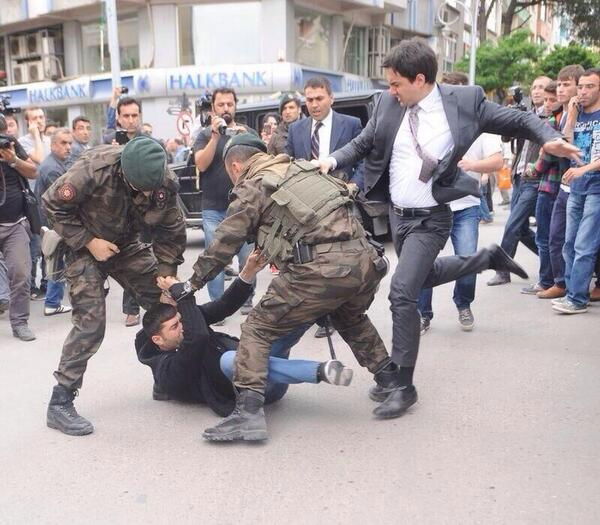 An adviser to Turkish Prime Minister Tayyip Erdogan has sparked outrage after kicking a mourner at the Soma mine disaster site.
Yusuf Yerkel has admitted to kicking the man, who was protesting at the site, as he was held on the ground by officers from Turkey's Special Forces.
The incident took place as PM Erdogan visited Soma yesterday (Wednesday) after the mining explosion which has trapped hundreds of miners.
Reportedly the man had kicked a car in the PM's convoy, prompting Yerkel's astonishing attack which shocked witnesses at the scene.
Photographs of the onslaught have gone viral, circulating on social media sites like Facebook and Twitter and spreading anger over Turkey's response to the tragedy.
Yerkel, whose official title is Deputy Chief of the Cabinet of the Turkish Prime Minister's office, is expected to release a statement about the incident shortly.
PM Erdogan, who declared three days of national mourning for the tragedy, has given assurances that the mining disaster would be investigated to its 'smallest detail' and that 'no negligence will be ignored.'
The death toll now stands at 282, but more fatalities are expected.
Related Stories:
Turkey's MP attacked over mine disaster