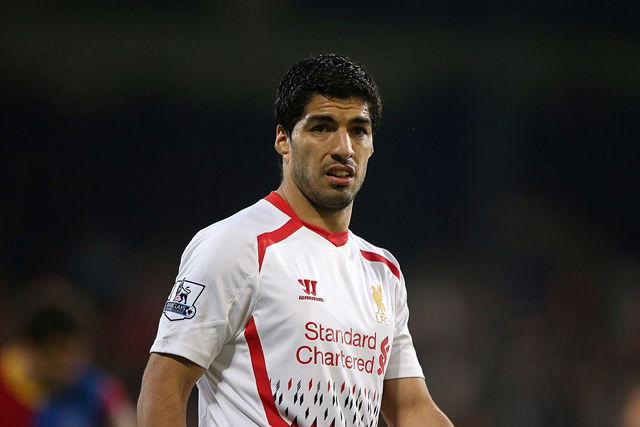 Liverpool player Luis Suárez has pushed aside questions about a possible move to Spain.
The striker, speaking at an event in Spain's Barcelona yesterday (Wednesday), said that he "turns the page" every time he sees an article linking him to a move away from Anfield.
The Uruguayan also denied suggestions that he has a clause in his contract that would allow him to make the move to Spanish super-clubs Real Madrid or FC Barcelona.
However, there has been much speculation about Suárez and whether his future remains at UK club Liverpool.  
Asked whether there is any chance he would make the move to sunnier shores, he said:
"My head now is focused on the World Cup. I had a very good season with Liverpool but now I am focused on the World Cup. Everyone knows that there is always too much media speculation."
And Suárez flatly denied the Spain club clause:
"No, no, not as far as I am aware. There is no clause that suggests a priority for a specific team."
The media persisted to link him to the Catalan team, with Suárez eventually saying:
"I'm not the coach. They know what they need. I have a contract with Liverpool."
"I turn the page . . . you know what the press is like, how they speculate, and you try to not take any notice. I know what I want. My agent tells me what's there and what's not. It's more speculation than reality."
Suárez has finished the season with 31 goals, meaning he's currently top of the European Golden Boot table with Real Madrid's Ronaldo.
When asked what the name 'Real Madrid' means to him a grinning Suárez replied:
"Real Madrid? The only thing I think is Cristiano Ronaldo and that he doesn't score. He's one of the best in the world with Messi. I kill myself to score goals; they do it so easily. If he scores, it'll be a pity."
And talking of Liverpool losing out in the Champions League the player said that it did not take away from a spectacular season for the club.
He said: "To get back into the Champions League, and to finish second, is great for us."