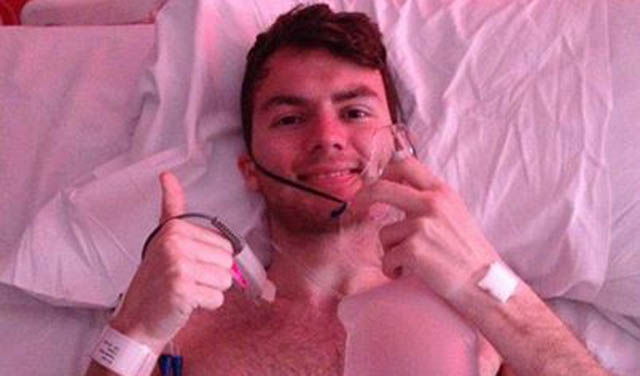 UPDATED: Terminally ill teenager Stephen Sutton, who was re-admitted to hospital just days after celebrating raising over £3 million for Teenage Cancer Trust, has lost his fight against cancer.  
Today (Wednesday) Stephen's mother released this message: "My heart is bursting with pride but breaking with pain for my courageous, selfless, inspirational son who passed away peacefully in his sleep in the early hours of this morning, Wednesday 14th May. The ongoing support and outpouring of love for Stephen will help greatly at this difficult time, in the same way as it helped Stephen throughout his journey. We all know he will never be forgotten, his spirit will live on, in all that he achieved and shared with so many. Love, His mom x"
Stephen Sutton, 19, was taken back to Birmingham's Queen Elizabeth Hospital after developing "breathing difficulties" at the weekend.
On Sunday, writing on his Facebook page, which has 765, 000 likes, Stephen said: "Unfortunately today I've ended up back in hospital! I had some breathing difficulties starting last night and after going to A and E have been admitted back to a ward for monitoring. I've still got the cough, then quite quickly developed a wheeze in my breathing and breathlessness upon any physical exertion.
"There's no immediate panic and I'm currently quite stable- I have been put on nebulisers and other meds which are currently helping my symptoms hugely. The doctors think there may be something restricting my airway again, they're not sure exactly what yet though (tumour regrowth, infection, inflammation, etc are all potential reasons mentioned), but are currently discussing the possibilities and my scan results to decide what to do next.
"The whole thing is very inconvenient aha. I had a few cool things planned to attend today, then tomorrow was due to appear on the telly on BBC Breakfast News! I understand my health is the obvious priority though and have had to cancel. Fingers crossed the issue will be resolved and that I'll be out of hospital soon, I'll keep you all updated with how I'm getting on."
Yesterday (Tuesday) his family updated his Facebook page to let well-wishers know:
"Hi everyone, this is Stephen's family. Unfortunately in the last 24 hours Stephen's condition has deteriorated to where he can no longer communicate through this page himself. Unfortunately the breathlessness which had him re-admitted to hospital is due to the regrowth of tumours which are blocking his airways, and not just due to infection as we had all been hoping. He is currently comfortable and stable, and we will let you know of any further developments. Right now however, as a family, we wish for a certain amount of privacy for us to spend what time he has remaining with him. We appreciate everyone's concern, and for all the love and goodwill sent his way, and indeed ours too, we thank you deeply x"
Stephen, from Burntwood, Staffordshire, was first diagnosed with bowel cancer at 15. Despite treatment the tumours spread, with doctors telling him the disease was terminal in 2012.
Stephen's JustGiving page currently has £3,249,554.71.
Tributes are pouring in via social media sites.
Manchester City FC said via Twitter: "The club's thoughts are with the family and friends of Stephen Sutton who sadly passed away this morning."
Ricky Gervais said on Twitter: "RIP Stephen Sutton. A true hero & inspiration to us all. 
Related stories:
Cancer fundraiser teen to have op
Teen fundraiser rejects duping claims