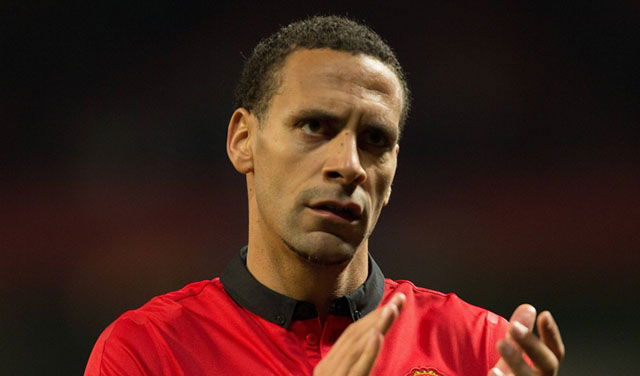 Manchester United's Rio Ferdinand has been dropped from the club.
Ferdinand's United career is over after the veteran defender was informed that he will not be offered a new contract.
Sources say that the bad news was broken to Ferdinand, 35, by Old Trafford chief Ed Woodward in the dressing room following Sunday's final game at Southampton which resulted in a 1-1 draw. 
Ferdinand, who joined the club in 2002, was said to be shocked by the decision.
MUFC revealed the news on Twitter: "MUFC would like to thank Rio Ferdinand for his long and distinguished service, and wish him well for the future."
Ferdinand, who was the most expensive player in English football history when he joined United from Leeds for £29.1million in July 2002, has made 455 appearances for the club.
While ill-fated former manager David Moyes was in charge, Ferdinand didn't get much playing time – but he hoped to carry on playing for the club and wanted to end his career with United.
Former West Ham player Ferdinand will reportedly carry on playing and has already received offers from America's Major League Soccer, China and the Middle East.
In a statement Ferdinand said: "I am feeling fit and healthy, ready for a new challenge and looking forward to whatever the future holds for me.
He thanked his United team-mates, the club and the fans, and said that "after 12 fantastic years playing, for what I regard as the best club in the world, I have decided the time is right for me to move on".
Ferdinand lamented that "circumstances didn't allow for me to say goodbye the way I would have liked."
This week, Louis van Gaal is set be confirmed as United's new manager. Coaching staff members Phil Neville and Chris Woods are expected to depart Old Trafford.
However, Ryan Giggs, currently the club's interim manager, and team captain Robin van Persie, are expected to stay.
In a recent interview Van Gaal, referring to both Giggs and van Persie said:
"When I go to a new club, I always want to keep one coach from the existing staff.
"As for the captains, I choose the captain, not the players. I have to admire him because of his personality, his identity. My captains are very professional, but also very ambitious and honest. You can see these qualities in the captains I have chosen."