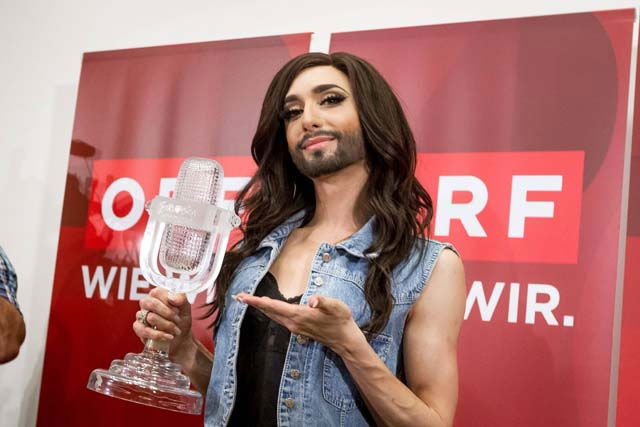 Austria's contestant, Conchita Wurst, the so-called bearded lady, won the Eurovision Song Contest in the host city of Copenhagen on Saturday night.
The drag queen, whose real name is Tom Neuwirth, 25, won with anthem 'Rise like a Phoenix'.
Conchita won the crowd over, taking to the stage in a figure-hugging ensemble, false eyelashes and a full beard before delivering a powerful performance of her ballad.
The contestant went on to ensure her victory with three rounds to spare, eventually accumulating 290 points.
After being announced as the winner an emotional Conchita said: "This award is dedicated to everybody who believes in a world of peace and freedom.
"You know who you are – we are unity and we are unstoppable."
Prior to taking the competition by storm Conchita had faced strong criticism from groups in Russia, Belarus and Ukraine, who called for her to be dropped from Eurovision.
However, Conchita shone during her time in the lime light, winning over viewers.
Most of the winner's "douze points" were secured from western European countries, including Britain, Sweden and the Netherlands.
Dutch entry The Common Linnets scored 238 points to finish runner-up, while Sweden's Sanna Nielsen came third with 218 points. Both acts were pre-competition favourites to win.
UK entry Molly Smitten-Downes, 27, placed 17th with her song Children of The Universe, while Spain's Ruth Lorenzo got 74 points and came in 10th with 'Dancing in the Rain'.
Some 180 million viewers across 45 countries watched Saturday's show, which has often been criticized for being too political when it comes to the voting.
This year's show was no exception, with the audience jeering countries that awarded points to Russia – who are currently embroiled in a conflict with Ukraine.