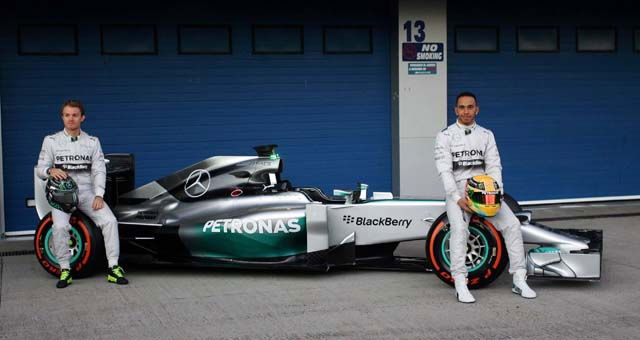 Ahead of this weekend's Spanish Grand Prix F1 Mercedes driver Lewis Hamilton is adamant that his team will tighten their grip on the Championship.
Following wins in Malaysia, China and Bahrain, Hamilton, 29, is looking to win his fourth consecutive Grand Prix victory in Barcelona.
The Brit driver may face some serious competition from team-mate Nico Rosberg though.
Rosberg is aiming to break Hamilton's winning streak and boost his own title chances at the top of the table.
Rosberg currently sits in first place with 79 points, having won the first race of the season in Australia.
But he's closely followed by Hamilton, who has 75 points and three consecutive wins under his belt.
Both drivers have illustrated the utter dominance of Mercedes this F1 season with a superior car, engine and some superb driving.
Speaking about continuing that dominance, Hamilton said: "Maybe others will be quick, but they will have to have done a mega job to have closed the gap in this period of time, considering we've also made a step this weekend."
Hamilton's former McLaren team-mate Jenson Button has ruled himself out of the title this year, and said: "It's going to be tough for anyone to win a grand prix this year apart from Mercedes".