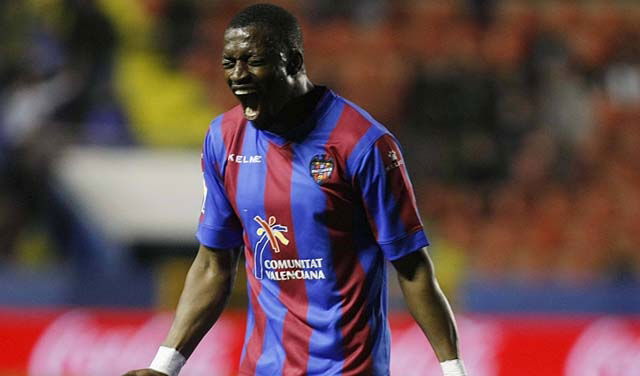 Just a week after a row over racism in Spanish football erupted after FC Barcelona's Dani Alves was targeted, a new incident has fanned the flames.
Sunday night saw Atlético Madrid football fans racially abuse Levante's Senagalese midfielder Pape Diop.
The spectators made monkey chants at the 28-year-old player, whose team beat the La Liga leaders by 2-0. 
While the player gave a victory dance as the final whistle blew, TV images captured Atlético fans making monkey gestures.
Diop said: "It affected me a lot. I went to take a corner and some of the Atlético fans began to make monkey chants.
To play it down, I started to dance. I don't have anything against the Atlético fans. It is a provocation I get in many grounds.
"It has to stop. I don't know if it is racism or a lack of respect. They have to stop making monkey gestures at black players."
Last week Barcelona's Brazilian international Alves shone a spotlight on racism in Spanish football when he took a bite out of a banana thrown at him in his side's win over Villarreal.
Alves said that the incident was not a one-off:
"I have been in Spain 11 years and it has been the same for 11 years. You have to laugh at these morons."
Star players of different nationalities and races across the world, including team-mate Neymar, stepped up to support their fellow player, igniting a social media campaign against racism.
The banana-throwing El Madrigal culprit was subsequently arrested and handed a lifetime ban from the stadium by Villarreal.
Reportedly, following yesterday's incident, a number of Atlético players visited Diop in the changing rooms after the match to offer their apologies.
The incident was largely ignored or played down by the Spanish press but it made waves in the UK media and has left a bitter taste, with many feeling that racism may be endemic in Spanish football.