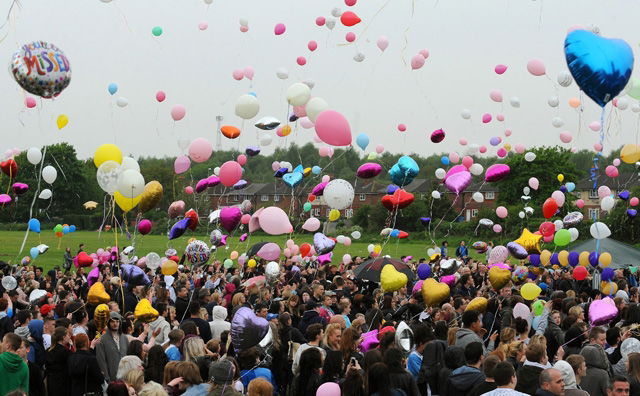 Pupils at Corpus Christi Catholic College in Leeds have paid tribute to murdered school teacher Ann Maguire.
The Spanish and RE teacher was stabbed to death in her classroom by a 15-year-old student last Monday.
Mrs Maguire, who pupils described as 'caring' and 'supportive', was killed on her day off after going in to school to help pupils prepare for upcoming exams.
The school held the memorial event yesterday (Monday), with hundreds of Mrs Maguire's students – both past and present – gathered a week on from her tragic death.
Students released hundreds of balloons – many of purple and gold to signify the school's colours – adorned with messages to Mrs Maguire. They also held a minute of silence for the popular teacher.
There was also a football match held in the teacher's honour, with players wearing shirts bearing the teacher's name.
A student appeared in court last week charged with mother-of-two Ann Maguire's murder and was remanded in custody. He is due to go on trial in November.
Mrs Maguire, 61, was due to retire this September.