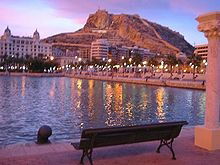 More employees work "in the black" in Alicante province than any other in Spain.
The National Population Survey (EPA) revealed that over 100,000 Alicantinos are employed in the submerged economy.
A total of 6320,000 people were in work, the EPA found, but only 531,700 were registered in the Social Security system, leaving 100,796 in a legal limbo.
Not only does Alicante have more unregistered workers than any other Spanish province, but this number has remained more or less stable for 10 years, according to the EPA statistics.
The problem is deep-seated, sources said, and supports the claims of the province's business-owners' association COEPA, which has long complained about the unfair competition of firms that benefit from their employees' irregular situation.
"Unfortunately in many areas and in sectors like agriculture or the footwear industry, workers regard working without a contract as normal 'because that's what we've always done' they say," explained Jose Maria Ruiz Olmos, Employment secretary for the l'Alacanti-Las Marinas area. 
Valencia province has 77,814 unregistered works, the next-highest number after Alicante, followed by Baleares (53,949), Toledo (41,954) and Las Palmas (39,628).