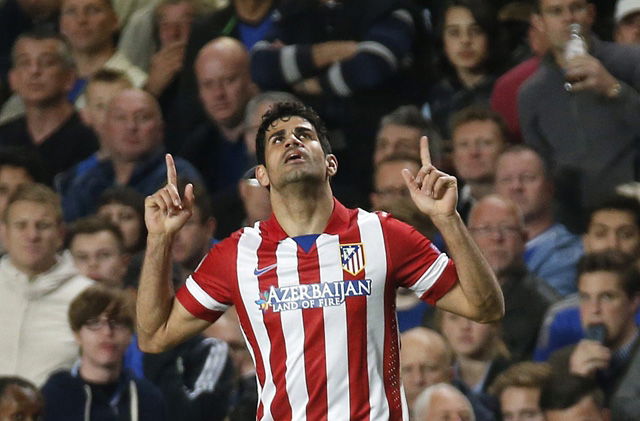 Atlético Madrid thrashed Chelsea 3-1 on Wednesday night at Stamford Bridge to secure a place in the Champions League final against fellow Spanish team Real Madrid.
Former Atlético player Fernando Torres opened the scoring at 36" but refrained from celebrating, with this possibly symbolising a green light for a return to the homeland club that made him.
It was a notable achievement for the striker as he had managed to score against formidable keeper Thibaut Courtois, who is on loan to Atlético Madrid from Chelsea.
Belgian Courtois, at just 21 years of age, is already being touted as one of the best goalkeepers in the world.
The early lead that so delighted the home fans lasted until Adrian scored just before half-time for Atlético at 44".
Chelsea's opponents were thirsty for the win, with the early lead taken by Torres sparking life in them.
After that equaliser the tables completely turned. Atlético controlled the game, displaying a style that Chelsea couldn't compete with.
The Spanish team were impressive, and played with a high technical standard and defensive resilience. 
Atlético showed flair and imagination that Chelsea would do well to emulate. They were determined, effective, and highly ambitious, doing what Mourinho coaches his players to do – but better.
In a way, they have set the standard for Mourinho and his team next season.  
Atlético's Hitman Diego Costa scored the second at 60", with the chance of a win slipping away from Chelsea.
Tempers flared ahead of the penalty taken by Costa, who is a Chelsea target, as the boys in blue realised that there was no coming back from the brink.
Costa was given a yellow card for time-wasting by referee Rizzoli. But time-wasting was in their interest as they wore Chelsea down.
At 72" Arda Turan made sure that there was no coming back for Chelsea, making the win watertight.
When all was said and done there was nothing left to do but shake hands and call it a night.
Chelsea hadn't played badly – but they just hadn't done enough. Mourinho was aware that his team just didn't deserve to win.
Chelsea players left the pitch dejected, the Champions League dream over for them with a crash.
Fernando Torres looked upset, but must have felt mixed emotions and some sense of loyalty to his former club, while Samuel Eto'o looked miserable after his giving away the penalty that cost the game.
John Terry looked distraught, with Atlético players stepping up to offer words of consolation.
Mourinho shook hands with rival manager Diego Simeone, knowing full well why the team who seem destined to be La Liga champions were triumphant.  
Atlético Madrid will play city rivals Real Madrid in the Champions League final in Lisbon on May 24.