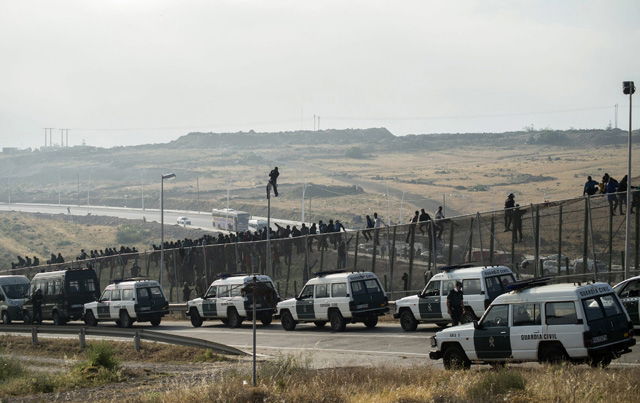 Around 700 African migrants charged Spain's barbed-wire border fences yesterday (Thursday) at the country's North African enclave of Melilla.
The migrants clashed with Spanish and Moroccan border police, with Spanish authorities confirming that 140 of the migrants managed to enter Spanish territory – despite the best efforts of border control.
It was the latest wave in a tide of African immigrants attempting to cross the Mediterranean into Europe.
Spain's two North African exclaves of Melilla and Ceuta are key entry points and have proved vulnerable to repeated attacks by hundreds of immigrants over recent months.
Yesterday's migrants rushed the fences in two waves, with 500 arriving in the early hours and another 200 a few hours later.
By the afternoon, over 150 people remained near an outside border fence. Reportedly, they fended off police by setting fire to their clothing and throwing it at them.
Police resorted to the use of pepper spray to try and force the migrants down from the 20-foot high fence.
Spain's Interior Ministry statement said that some migrants were treated by Red Cross staff at the scene, with five taken to hospital. Some 12 police officers were injured.
The 140 new arrivals to Spain were taken to the region's temporary immigrant centre, which now contains more than 1,900 immigrants.
The Interior Ministry statement said that this facility is now way "above its maximum capacity."
The EU has been asked to assist in the immigration situation, which is becoming increasingly more difficult and strained. The cost of border enforcement is also spiralling.