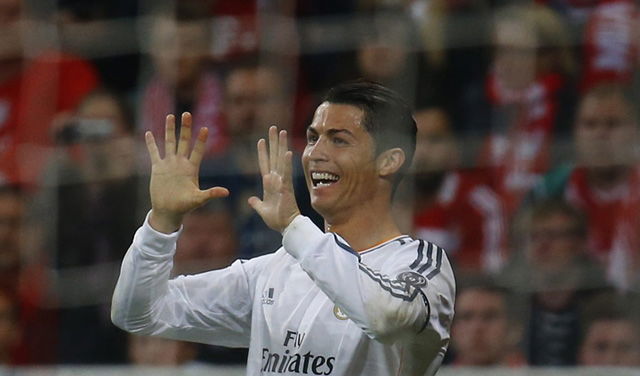 Real Madrid knocked Bayern Munich out of the Champions League last night (Tuesday) at the Allianz Arena in spectacular style.
There was a joint moment of silence for former FC Barcelona manager Tito Vilanova and Real Madrid's former manager Vujadin Boskov, who both died last week.
The match began with expectation, excitement and perfectly-balanced teams who were both eager to prove their worth.
However, it didn't take long before Real Madrid were winning hands-down and Bayern were crumbling under the pressure.
Although they were initially looking quite dangerous, Bayern Munich had weaknesses in defence from the offset, and it cost them dearly.
Real Madrid had already secured a point on aggregate, and a 0-0 result would have left them winners. But the Spanish team wanted more.
Just 15" in and Ramos scored, heading the ball into the net with a superb shot. It was only his third goal of the season.
This early lead was where the problems began for Bayern. Dante knocked over Ronaldo, a favourite target for the opposition, and it landed him with a yellow card.
Ronaldo, who has been struggling with a knee injury recently, was brought to the brink of tears after the awkward fall.
However, the Portuguese star played on, determined that he would help lead the team to Lisbon.
There was a lack of authority from the referee when it came to Bayern Munich, as the team sought to get to grips with a merciless Real Madrid.
Just five minutes later, at 20" in, Real Madrid's Di Maria made a pass and Ramos headed the ball comfortably into the net for the second time.
Bayern would now need four goals to win, a possibility that was slipping further and further away with their inability to regain composure.
After his knock Ronaldo came back stronger, making various breaks and looking like he may score at any given moment.
Despite Bayern's possession being stronger (63/37), it was mostly because the team were attempting to keep the ball to one end of the pitch, away from Ramos and Ronaldo.  
All Bayern attempts to score, and they were so few and far between that Iker Casillas could have taken a break, came to nothing due to the German team's complete lack of control.
At 33" Cristiano Ronaldo got what he had been pushing for – his 50th Champions League goal slipped right by Bayern Munich's keeper Neuer.
The Real Madrid star player has now scored 16 goals in 10 matches. This season he has managed an impressive 51 goals in 44 games – just in case anyone ever wonders again if he's the best in the world.
Just three minutes later and Ronaldo, any team's lucky charm, came dangerously close to scoring again.
As a result of a mistimed challenge Real's Xabi Alonso was awarded a yellow card at 38". It was not a malicious challenge against Bayern's Bastian Schweinsteiger but it means that the player is out of the final when Real take on Chelsea or Atletico Madrid.
At 39" Bayern Munich had an excellent chance to score, even though they still had to get through Casillas first.
However, they failed to cope with the pressure and Pepe deflected the one shot that could have helped them.
Bayern's Franck Ribery, 31, slapped Real Madrid defender Daniel Carvajal in the face, showing his team's total lack of control in the first half of their semi-final exit to Real Madrid.
Portuguese referee Pedro Proenca failed to see the incident, meaning that the Bayern player has not been punished – yet.
It was the embodiment of the ill-tempered first-half of the match for Pep Guardiola's team and their descent into chaos.
It's safe to say that it was a distressing first half for Bayern Munich, the reigning European champions.
It was a dramatic turn of the tables after Real Madrid were eliminated 10 years ago from the competition by Bayern Munich.
In the second half Bayern Munich managed to appear calmer and cooler-headed. There were less challenges and less fouls. There was a quiet resignation that tonight was not their night.
Real's Pepe deflected a few Bayern close calls, although Casillas was on cue and the Real defence was bolstered by the knowledge that this was – and always had been – their game.
Ronaldo's second goal, at the 89", was the final nail in the coffin for Bayern Munich.
After such a successful campaign – and with the Champions League cup within grasp – Real Madrid's manager Carlo Ancelotti is highly unlikely to be thinking of taking the MUFC job now.
It will be Real Madrid's first Champions League final since 2002. If they win, it will be the team's tenth title.