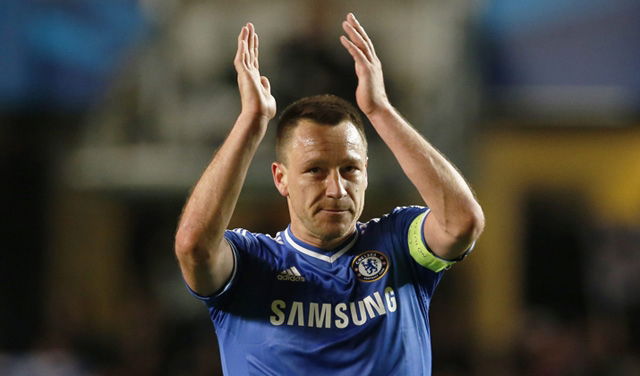 Last week, Terry feared his season might be over, cut short by a twisted ankle during the goal-less first leg of the Champions League semi-final against Spain's Atlético Madrid.
However, the Chelsea captain has been declared fit by Jose Mourinho to face Atlético for the second leg of their semi-final clash.  
Terry, who has said that he would like to finish his playing career at Stamford Bridge,
Mourinho told reporters that his team captain is in excellent health – and ready to take on Ateltico in the upcoming showdown.
Terry also ruled out the notion of an England return and pledged his future to Chelsea beyond his current contract, which is about to run out.
The 33-year-old centre-half said:
"It's the club I've been at since 14, and I've been nowhere else. I want to stay here for the rest of my footballing days. We're in talks.
"We've had big games, so we haven't spoken for a few weeks, but I hope it gets done. It's down to the club but I want to stay and I hope something gets sorted out."
Terry also had nothing but praise for manager Mourinho and said:
"A lot of people in football ruled me out a bit last year, thinking I wouldn't be here for too much longer.
"That spurs you on to do well and battle for the club you love. Whether that's a year, two years, three years, I feel I have something to give next year. Beyond that, we don't know. I hope so.
"The manager has played a massive part for me. We spoke in the summer once his deal was done. He's very honest. He lets you know straight. If you're not good enough, you won't play. If you're playing well, you keep your place."
The feelings were mutual, with Mourinho, who now has Samuel Eto'o, Eden Hazard and Terry fit after injury, saying:
"My captain is playing at the same level he was playing when I left Chelsea in 2007, as simple as that. Seven years later, he's playing again at his best.
"It's also fair to say that the  people who surround him, the  people playing on his left and right, in front of him, are also playing  fantastically. His partnership with Gary Cahill is fantastic.
"I'm really happy to see a player like him, six or seven years later, to be back to the same level. He deserves more than the Champions League has given him up to now.
"He lost a few semi-finals in special circumstances. He lost a final also in special circumstances. He won a final in special circumstances because he couldn't play. I think the Champions League owes him something."
Terry underwent intensive  treatment through the week to get himself in shape for tonight's Atletico game and is ready to take a penalty if necessary.
Atlético Madrid, with Chelsea's on-loan goalkeeper Thibaut Courtois set to make his debut at Stamford Bridge, have not conceded in six games.
FC Barcelona's Neymar was the last player to get a goal past Courtois when he equalised for his team in the first leg of the quarter-final on April 1.