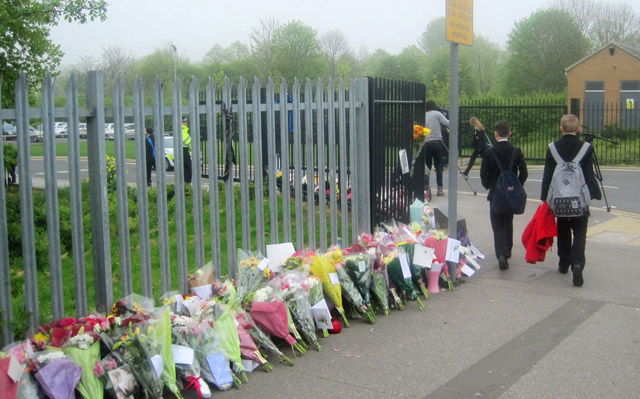 A popular teacher in Leeds, West Yorkshire, was stabbed to death in front of her horrified class yesterday (Monday) by a student.
Anne Maguire, 61, was murdered in the middle of a lesson at Corpus Christi Catholic College when the boy calmly walked behind her and repeatedly stabbed her in the neck with a kitchen knife.
This is said to be the first time a pupil has killed a teacher in a British classroom.
The boy, 15, is said to have had a grudge against the devoted RE and Spanish teacher who pupils have described as caring and devoted.
The middle-class pupil who has been described as an 'outcast' attacked Mrs Maguire, who was said to have given him detention last week, at around 11.45am.   
Reportedly, the boy had suffered with his mental health and had been prescribed anti-depressant medication.
Mrs Maguire was rushed to hospital but died from her injuries.
The school community has united to praise an inspirational and loved teacher who was the 'mother of the school'.
West Yorkshire Police Chief Superintendent Paul Money confirmed: "The alarm was raised by the students in the school, some of whom witnessed the offence.
"A 61-year-old member of staff was treated by paramedics at the scene then taken to hospital but she tragically died.
"A 15-year-old pupil at the school was detained by teaching staff immediately after this incident occurred and was taken into custody in Leeds."
Police are currently investigating.
Many have taken to social media sites like Facebook and Twitter to express their shock and sadness at the news.
Prime Minister David Cameron took to Twitter to personally offer his condolences:
"My thoughts are with the family of Anne Maguire, as well as the staff and pupils of Corpus Christi school, where she was stabbed to death."
In the UK such violent incidents in schools are few and far between. In 1995 the nation was shocked when Headmaster Philip Lawrence was stabbed to death outside the gates of his London school.