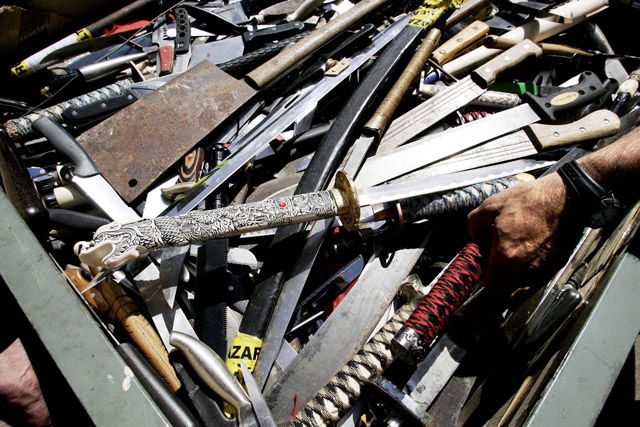 Over the last three years almost 1,000 UK pupils were caught with weapons including guns, axes and a meat cleaver in schools.
Figures show that weapons including guns, knives and razors were seized on school premises from 981 children since 2011.
Of those students with confiscated weapons, 329 were caught with items including an axe, a cut-throat razor and a stun gun. They were charged with a criminal offence.
The numbers include some 80 primary school children, some as young as eight years old.
Campaigners argue that the scale of the problem is likely to be much worse, as 21 of the UK's 52 police forces did not supply figures requested under the Freedom of Information Act for the Sky News investigation.
Some 36 pupils were found with an assortment of guns, including two hand guns, seven air-powered weapons and 27 BB guns.
The figures do not include data from West Midlands Police, which alone recovered weapons from 538 people during the same period, because it also accounts for colleges and universities.
The Government has said that it has given teachers powers to take action if they suspect a pupil has brought a weapon into school.
A Department for Education spokesman said:
"Teachers can now search pupils without consent, confiscate prohibited items and use force to remove disruptive pupils from the classroom when necessary.
"We've also given heads the final say on expulsions by removing the right of appeal panels to put pupils back in the classroom."
The shocking figures raise questions about whether schools and the Government are failing to tackle the problem.
Following a spate of violent incidents in 2009, the UK Government announced new measures to curb the problem of weapons in schools.
There were plans to introduce airport-style metal detectors as part of an action plan against violent crime.
However, many argue that the issue of crime in schools has yet to be dealt with satisfactorily, leaving school-children vulnerable.