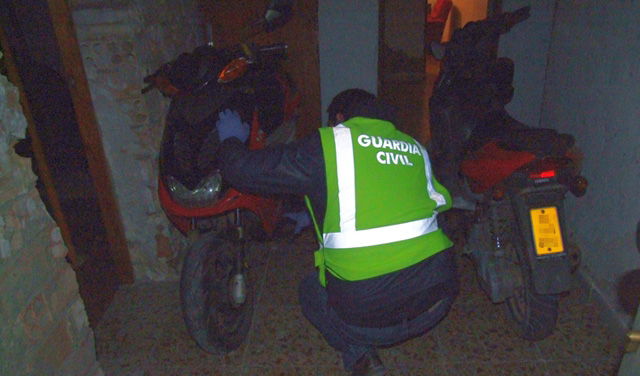 Older residents of Vera and Cuevas del Almanzora can rest a little easier after five violent muggers were arrested.
The thieves had been operating on mopeds and specifically targeting older ladies in public areas by approaching them from behind and snatching their personal belongings, such as handbags, phones or jewellery.
One of the perpetrators had dragged one of his victims several metres along the ground.
The violent mugger, still on the moped, with full face helmet then went on to attack a second victims within just a few minutes of the first attack and only 200 metres from the first, mowing the lady down in the process.
The police spotted one mugger, and attempted to apprehend him immediately, as he fled the scene on his moped.
In his attempted escape, the criminal struck one of the policemen to avoid identification and arrest.
Guardia Civil were still able to formally identify the mugger as BMM (age 38) and placed him and his assistant (AJAL) under arrest for participation in five separate muggings.
Following further investigation, the Guardia Civil were this week able to arrest four additional people involved in the crimes – FMO (age 31), MGM (age 18).
There was one further arrest made, that of a minor, under the age of 16.
Once the evidence had been assembled, and arrests made, the Guardia Civil recovered a number of personal items, including mobile phones and jewellery, which have now been returned to their rightful owners.
The police are also examining the mopeds used in the assaults for any evidence which may help lead to a conviction
Guardia Civil conducted a search of BMM's home in Huercal-Overa, and discovered two mopeds involved in the assaults, as well as the full face helmets used to conceal the muggers' identity.
BMM had a long list of previous offenses for theft, of a similar nature to those being investigated.
The muggers now await trial. BMM is already in prison.