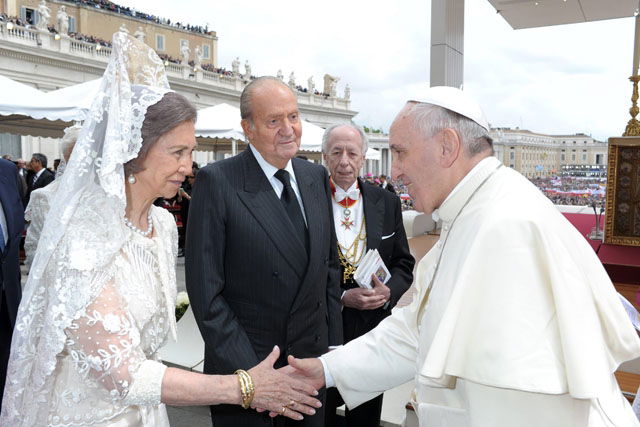 Yesterday (Sunday) saw European royals gather in Vatican City for the canonisation of Pope John Paul II and Pope John XXIII.
Among the notable guests were Spain's King Juan Carlos and Queen Sofia, who were meeting Catholic leader Pope Francis for the first time.
Queen Sofia kept to the 'Privilege of the White' tradition, the rule that says certain Catholic queens, princesses and duchesses are allowed to wear white attire and a mantilla during an audience with the Pope.
The event was historic as it was the first time that two Popes had been declared saints at the same time.
The mass was watched by some one million pilgrims in Vatican City, with many more around the world tuning in on television and radio channels.
After the canonization mass, the Spanish King was greeted by the Pope with a handshake. Queen Sofia kissed the Pope's ring, a symbol of his pontifical power.
Following the ceremony, Pope Francis greeted crowds from his "pope-mobile", waving to the audience and smiling.
Today Spain's royals will be treated to a private audience with the pontiff and his secretary of state, Pietro Parolin.