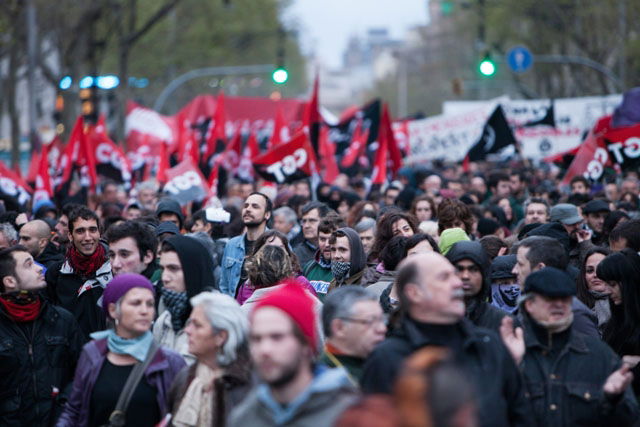 After gathering evidence from several Spanish protests Amnesty International is arguing that Spain is restricting the rights of its citizens when it comes to protesting.
The report paints a picture of a heavy-handed government response to the country's growing social movements and rising levels of discontent.  
Over the last year Amnesty International tracked several Madrid and Barcelona protests, gathering first-person accounts, interviews with journalists and legal experts and analysing videos and photographs.
The Spanish government is using fines and excessive police force to limit the right to protest, according to the report.
Many people across the country are also unhappy with Spain's new citizen security bill, with critics maintaining that the strict anti-protest laws are designed to limit rights.
In recent years Spaniards have been woefully unhappy with the country's high unemployment rates, shrinking public funds for education, health and social services and inability to leave the financial crisis behind.
Millions have taken to the streets to voice their anger – particularly at the PP government austerity cuts that have been highly criticised.
The Amnesty report author, Virginia Álvarez, argues that instead of attempting to initiate a dialogue with unhappy citizens, Spain's conservative government is aiming to strip away rights.
Álvarez said: "Instead of listening to their demands, instead of starting a dialogue, authorities are doing everything they can to impede people from protesting.
"With threats of fines or threats of being beaten, the government is trying to stigmatise and criminalise people who are just practising their rights."
Citing public disobedience, fines ranging from €300 to €1,500 have become commonplace for protesters in Spain over the last few years.
Just last month a violent clash between riot police and demonstrators in Madrid led to headlines around the world after more than 100 people were injured, including 67 police officers.
The report describes how even peaceful protesters are treated by Spanish police as criminals, with the expectation that they will incite violence. The report says that, in many cases, police had used excessive force to confront protesters.
Amnesty International is soon expected to present its report to various government bodies in Spain, including the Ministry of Justice and the Ministry of the Interior.
Last week, Spain's Director General of the National Police, Ignacio Cosidó, pointed to a rise in street violence, and told parliament that the head of the anti-riot squad had been dismissed.
There are also plans to restructure police services to deal better with what he called "an escalation of violence never seen before".