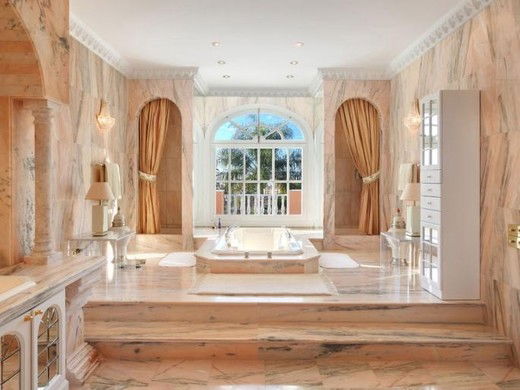 Music royalty Prince is selling his luxury Marbella villa.
The artist, formerly known as a symbol that nobody could pronounce, has put his property on the market for a cool $7.7 million – that's a hefty 5.5 million in Euros.  
The pop star purchased the stunning mansion as a gift for his first wife, Mayte Garcia in 1988.
However, the couple rarely visited the place, and it's believed that Prince hasn't visited the home since 1999. However, ex-wife Mayte has used the property as a holiday home.
Prince earned his title as "the Purple One" after his album "Purple Rain" became a major hit.
But it's no secret that he also loves the shade. Reportedly, his first home in Minnesota was an homage to his favourite hue, being completely painted in the colour and nicknamed the "Purple House."
And in 2006, the Purple One's obsession with the colour gained him even more notoriety after a landlord filed a lawsuit against him for violating the lease agreement.
Prince had rather tastefully painted purple stripes all over the house and also installed purple monogrammed carpeting.  
The property listing describes it as: "one of the most privileged residences in Marbella, the Villa bursts with charm and character and is unquestionably unique not only in terms of the architectural style and location but also its history, with the added value of being a former celebrity home, the flamboyant music legend Prince, who originally acquired it in 1998 as a wedding gift for his then wife, and was the inspiring scenario for many of his beautiful songs."
Reportedly the house spans an area of 63,507 square feet and is comprised of six bedrooms and six bathrooms.
Listing photos reveal spacious interiors with high ceilings, French windows and marble flooring.
The home is surrounded by beautiful manicured gardens and a pool with fountain features.
It isn't definitely known why the pop legend has such an infatuation with purple. Some have speculated that he associates it with royalty, while others say it's because he's a huge Minnesota Vikings (NFL) fan.