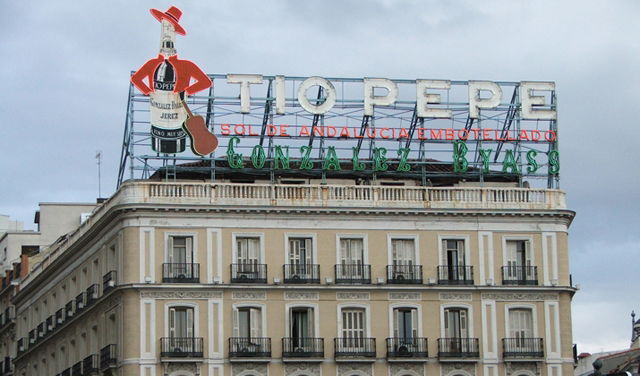 The famous neon Tio Pepe sign which was removed from the Puerta del Sol in Madrid has returned.
The Tio Pepe advertisement watched over Madrid's central square, Puerta del Sol, from the late fifties until 2011.
The sherry bottle, topped with a Cordovan hat, wearing a short torero jacket and brandishing a guitar, was fixed to the top floor of the Hotel Paris and was the one remaining neon sign in the square.
But the building, belonging to a Mexican property group, was leased to Apple Retail Store.
The sign was removed during renovation work and Tio Pepe owners Gonzalez Byass assumed it would return.
But they found it was absent from mock-ups and plans of the revamped building and challenged the plans suggesting that restoration "should be obliged to include the historic Tio Pepe sign."
It emerged that the building's owners did not want to renew the Tio Pepe contract but other sites in Sol offered a new home to the emblematic advertisement.
Now, it is back with a new, improved, slim-line figure. Up to 20 people worked in the final touches to put the advertisement in place on the top of number 11, Puerta del Sol, with the help of a crane.
It had to be done in parts and was completed earlier this week, although the official inauguration will be on May 8.