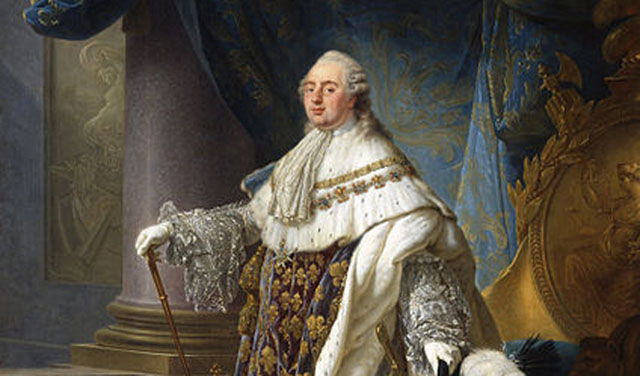 Scientists in Spain have been examining a blood sample long thought to belong to France's Louis XVI and concluded that it probably isn't authentic.
The scientists sequenced the genome from dried blood inside a 200-year-old gourd and found that it didn't match with the DNA signatures of the king's ancestry.
Furthermore, it doesn't seem to carry the code for King Louis XVI's celebrated traits, like his imposing height and piercing blue eyes.
Louis XVI was deposed during the French Revolution and was executed by guillotine in January 1793. Months later his wife, Marie Antoinette, also fell victim to the Reign of Terror.
Legends abound that witnesses soaked up the King's blood with handkerchiefs after the gruesome beheading.
An inscription on the decorated gourd says that the vessel held one of those souvenir bloody cloths.
However, the new evidence casts doubt on this theory after the Institute of Evolutionary Biology team in Barcelona carried out extensive DNA testing.
Last year researchers compared the DNA sample to that of three modern male relatives of Louis XVI from different branches of the Bourbon line.
Their findings – that the chromosomes matched but the blood didn't – were published in the European Journal of Human Genetics, and the revelation sparked a new investigation.
Scientist Lalueza-Fox and colleagues from the Spanish National Research Council (CSIC) concluded that the blood probably belonged to someone of slightly-above average height.
This goes against what we know about Louis – that he was renowned for his towering stature, standing well over 6ft.
The king also had blue eyes, while the person who left their blood on the gourd more than likely had brown eyes, according to the researchers.
The gourd blood also suggested Italian heritage, and this can't be reconciled with the lineage of Louis XVI.
The findings were published online yesterday (April 24) in the journal Scientific Reports.