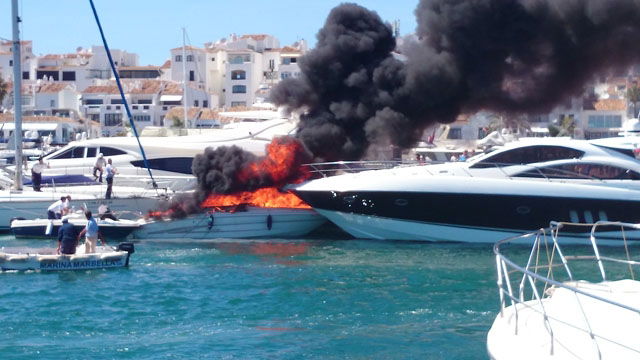 Millions of Euros worth of yachts have been threatened in Puerto Banus after a fire broke loose. 
A speed boat burst into flames and threatened to set fire to millions of Euros worth of yachts in millionnaire's playground Puerto Banus.
According to an eyewitness report the speed boat was being refueled at around 4pm today (Friday) when an explosion set it on fire.
Martin Porter, who is on holiday from the UK, at the marina near Marbella, Malaga, took this photo.
He said: "First it exploded, then it started drifting and headed straight for these luxury yachts. There would certainly have been some very worried multimillionaires about!"
He added that the speedboat was finally towed away in what must have been a difficult operation due to the heat and danger from the fire.
As yet it is unknown if any damage was caused to any of the other boats.