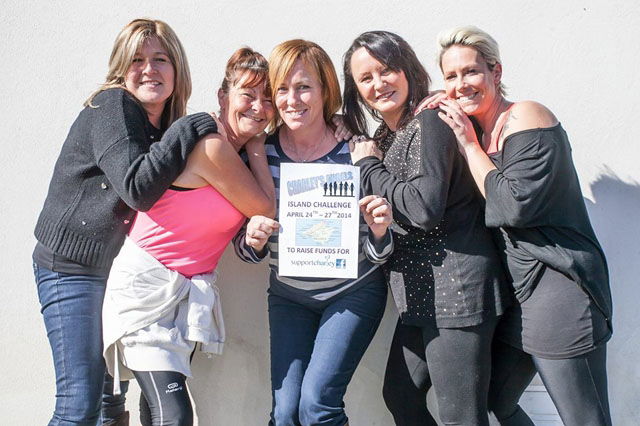 Don't miss a very special event on Sunday (April 27) which will help give a seriously ill little boy the best chance of as normal a life as possible.
The House of Katmandu theme park is hosting a party in a fun event to celebrate the finishing of a trek across Mallorca by a group of ladies raising funds for Charley, who suffers from a rare syndrome.
When Charley was born on September 4, 2008, he weighed just 1.280 kilos (less than 3 lbs), and he spent his first seven months of life in intensive care, six of them on a ventilator.
Charley has been diagnosed as having some of the signs of CHARGE syndrome, which is a fairly rare genetic condition and occurs in only one out of every 9 – 10,000 births worldwide.
Charley however has his own signs and symptoms that have never been seen in medicine before, Charley syndrome. In most cases, there is no family history of CHARGE or similar conditions – it literally arrives out of the blue.
Despite this, and all the medical treatment he's had to endure, he's a remarkably cheerful little boy, not least due to his loving family and close friends.
Mallorca's Son Espases Hospital and London's Great Ormond Street Hospital share Charley's care and are working together to help him.
This means that Charley has to travel to GOSH every few weeks or months for reviews and tests, which obviously costs money.
So a group of ladies known as Charley's Angels are pounding the streets across the island from Cap des Pinar in the north finishing at the House of Katmandu in Magaluf in order to raise funds for the continuing care and medical treatment of Charley.
This event started yesterday (Thursday) and should finish on Sunday at a special party at the House of Katmandu.
So far the Angels have been able to raise interest from a number of sponsors, the major ones being Pinmar, Bosun's Locker, Tailor Made, Universal Nautic and Darrmar.
This list is not exhaustive and many other sponsors will be present at the event.
The walk itself is over some difficult terrain and will span over 110 kilometres with the Angels walking from six to eight hours per day over the four days. 
If you notice the Angels dressed in Purple and black give them a toot on your horn for some encouragement.
There are five ladies; Debbie Crooks (Charley's mum), Mary Willoughby, Emma Conlin, Victoria Dearing and Carol McCarthy taking part in the walk itself and there is also a back up Angel, Sophie Kneller who will be on hand as a driver and be there for them with any help needed along the way.
At the finish the party will start with the arrival of the Angels at the finishing line. Katmandu has offered to donate part of the ticket proceeds to the fund.
You may be aware of some major work to Katmandu that took place over the winter and there are some fabulous new attractions.
There will be massively discounted tickets available for that day and as well as entry into the house itself, there will be side stalls along with live music throughout the day in what promises to be a fun event.
The Angels have been busily collecting some fantastic prizes for the raffle and these include green fees for one of the best golf courses on the island, a luxury weekend away in a spa hotel plus many other great prizes.
We are looking to all the Euro Weekly News readers to lend their support and this can be done in the form of direct sponsorship or by coming to the Katmandu event on the day.
If you wish to donate directly you can do so via http://www.youcaring.com/medical-fundraiser/charley-s-angels/137476
For more information about the Angels you can check their Facebook page https://www.facebook.com/groups/629352947100343/