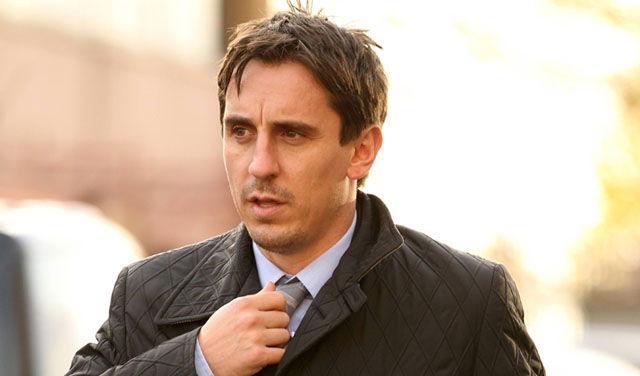 Rumours are flying about who will replace David Moyes as Manchester United manager following his dismissal this week.
In the wake of the news that Moyes is out ex-player Gary Neville says that the club doesn't need a big name in management to entice new talent to Old Trafford.
The former defender argues that it is irrelevant who the manager is at the club, with the most important factor being the results that United achieved in the good old trophy-winning days before Moyes. 
Since the departure of legend Sir Alex Ferguson the Red Devils have suffered loss after loss, with Scottish Moyes unable to provide results.
Last summer United struggled in the transfer market, and without the lure of Champions League football next season they may find it difficult again during the next window – despite having some big targets.
Neville told Sky Sports: "The reality of it is that it doesn't really matter who the manager is. What matters most to Manchester United fans is that they actually win football matches and get back to where they belong.
"The suggestion that they need a big manager to attract players to the club, I find that a bit sad to be fair.
"The idea that Manchester United Football Club need to have a sort-of figurehead to be able to attract players is nonsense as far as I'm concerned.
"Manchester United, as a football club, is big enough in its own right to be able to attract players – and they should be.
"It seems to be pointing in that direction and I suppose at the start of next season, if they can spend the money that they have wisely and there's a new big-name manager then times will be exciting again."
Veteran player and team trainer Ryan Giggs is currently managing the club, with some coaching assistance from former United players Paul Scholes, Nicky Butt and Phil Neville.
There are a few contenders for the role of manager at MUFC, including Louis van Gaal and Jurgen Klopp.
Reportedly, given the right circumstances, Chelsea's Jose Mourinho would be interested in the job.