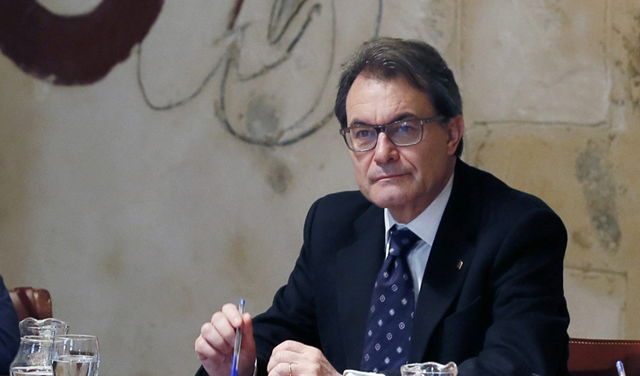 Catalonia's political chief Artur Mas vowed yesterday (Wednesday) that the region would push ahead with a vote on independence from Spain on November 9.
The claim flies in the face of fierce opposition from the central government in Madrid and comes just two weeks after Spain's parliament overwhelmingly shot down the referendum bid.
Despite the opposition Mas told journalists he is determined to hold a vote:
"The referendum will be called for sure and the Catalan people will be called to the polls on November 9."
The promise came on the same day the region of Catalonia celebrated its patron saint day of Sant Jordi, or Saint George.
Mas said: "Might the central government want to cancel it? I don't know. That doesn't depend on me."
The referendum is set to ask voters two specific questions:
– "Do you think that Catalonia should be a State – yes or no?"
– "If yes, do you want that State to be independent – yes or no?"
Both the ruling PP government and the main opposition PSOE are against the referendum, with Spain's parliament rejecting the bid by 299-47 votes.
Spain's Prime Minister Mariano Rajoy has vowed to block any referendum and spoken out about the idea of an independent Catalonia.
The PM also says that Spain is better off united, with a referendum flouting the country's 1978 constitution, which confers sovereignty on all Spaniards, not those of a single region.
Last month Spain's Constitutional Court ruled that a region like Catalonia could not "unilaterally" call a referendum on its sovereignty.
But Mas has been undeterred, and has asked that the vote is allowed to go ahead. He maintains that:
"It will not be strictly binding; it will be purely participatory to find out the opinion of the Catalans."
Catalonia has a proud and distinctive language and culture, with a growing number of the region's 7.5 million citizens resenting the redistribution of their taxes to other parts of Spain.