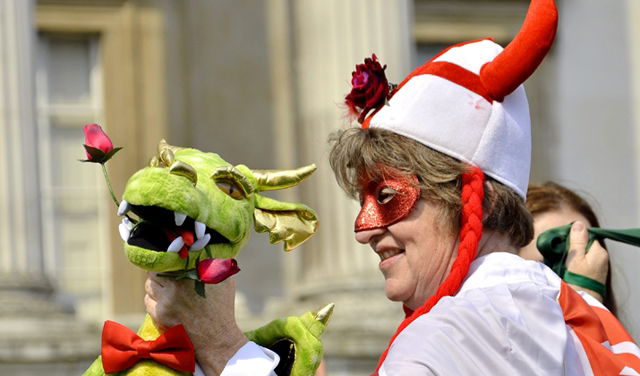 If you forgot, don't feel guilty – almost two-thirds of Brits have no idea that their saint's day falls on 23 April each year.
Now that you know it's TODAY, we're going to share some interesting facts and anecdotes with you about dragon-slaying George.
So who was St George?
Legend says that St George, the patron saint of England, slayed a man-eating dragon and saved a princess – all at the same time.
The story – admittedly, maybe a tall tale – has been well-known for over a thousand years.
And there is some basis for it. St George did exist but, in actuality, he is believed to have been a third-century Roman soldier who was tortured and executed for protesting against Emperor Diocletian's torture of Christians.
He had a bit of a rough time of it if the myths are anything to go by. He supposedly survived being boiled alive in molten lead, was forced to swallow poison and crushed between two spiked wheels, before finally being beheaded.
Was he even English?
It turns out that Georgie boy may not even have been English. But he's the sort of patron saint that is important because of what he represents: the traditional English ideals of honour, bravery, gallantry and good triumphing over evil. 
The St George story is symbolic of good being victorious over evil. In medieval mythology the devil was depicted as a dragon – George's adversary.
Is he just for England?
No. St George is the patron saint of a number of places including Aragon, Catalonia, Georgia, Lithuania, Palestine, Portugal, Germany and Greece.
He protects soldiers, archers, cavalry, chivalry, farmers and field workers, riders, saddlers, and the Scouts. He is also the patron saint against some delightful ailments like herpes, leprosy, the plague and syphilis.
How is the day celebrated? 
Well, it isn't really. England's saint's day is not marked with a national holiday. It used to be but the practice came to an end in the 18th century. Likewise, there aren't very many traditions associated with St George's Day.
There are, however, a few ways you can mark the day, with the most traditional one being to wear a red rose (England's national flower).
Coincidentally, today is also William Shakespeare's birthday – strangely, he was born and died on 23 April – so you could read a few lines from the Bard to mark the occasion.