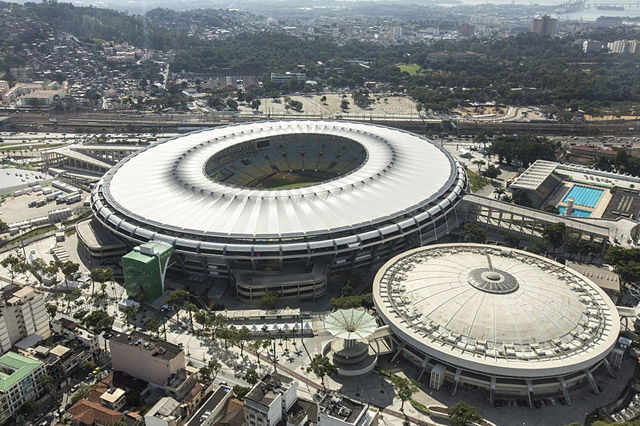 As the final preparations for this summer's World Cup in Brazil take place the World Cup trophy, football's biggest prize, is making its journey from Los Angeles to Rio de Janeiro.
And just like any star worth their weight in gold, the trophy will fly first class, in a private plane.
The trophy is finally returning to Brazil following a nine-month, 89-country, world tour in conjunction with Coca-Cola ahead of the highly-anticipated tournament between 32 countries.
Today (Monday), the trophy is touching down in Brazil, which will be hoping to win the Jules Rimet trophy for a sixth time.
The ultimate prize for world football will arrive at the Maracana stadium in Rio de Janeiro. The stadium is one of the venues for this summer's competition and set to stage the final.
Dunga, the former captain who led his Brazil team to their fourth world title in 1994, said:
"You become a child when you see it. It represents everything you wanted to conquer."
The trophy design is highly distinctive with two green stripes depicting a pair of athletes with their arms held high holding a globe.
The prize has mesmerised football fans everywhere on its world tour, with around two million people seeing it and dreaming that their country could be lifting this highly-sought after treasure in a few months.
John Mahama, the President of Ghana, danced and sang around the trophy, saying:
"It's amazing the power it has."
In Bhutan, so many people turned up to see the trophy that the national army had to be called in to keep the queue moving and enforce a ban on pictures.
Once the trophy hits Brazilian soil it will start its tour of 27 cities before its return to Rio, where it will remain under armed guard until the day of the tournament final – July 13.