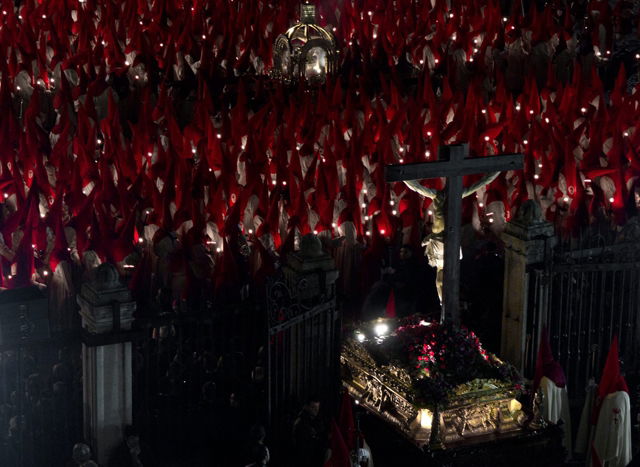 This week Spain is celebrating Semana Santa, or Holy Week, with thousands of penitents taking to the streets across the country to take part in the proceedings.
In Zamora, the 'Cristo de las Injurias' brotherhood wear red hoods and white tunics to take part in the Holy Week processions.
Yesterday (Wednesday), the penitents gathered at the square of the cathedral to mark the 'Oath Of Silence', before the start of the 'Procesion del Silencio'.  
During the haunting processions, the brotherhoods carry life-size effigies of Jesus Christ and the Virgin Mary through city streets accompanied by dramatic drum beats and mournful music.
Those taking part in the holy processions typically wear different coloured robes. Each cofradia (brotherhood) is represented by different coloured robes, with the masks historically used to provide anonymity for those looking to pay penance.
Cities like Seville and Malaga are renowned for their celebrations of the important Catholic festival.  
During Holy Week tourists line the streets to watch scheduled processions weave their way through the cities from early morning until late at night.
While some processions are all hustle, bustle and noise, with accompanying music, one of the most famous processions is El Silencio, which is conducted with no music.