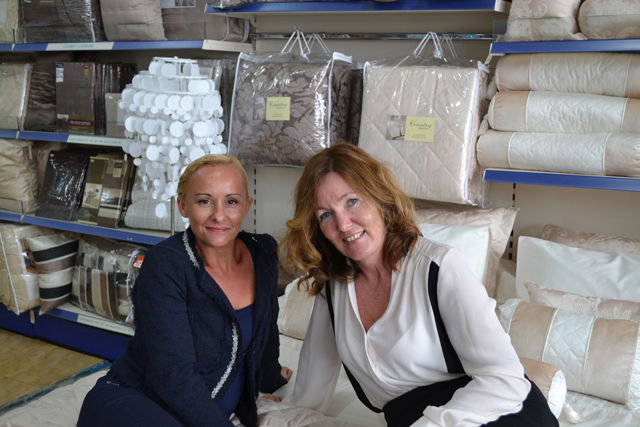 Yorkshire Linen in Fuengirola celebrates its sixth anniversary this week!
The store is a franchise of a large UK company that has over 40 shops in the UK as well as additional stores in Spain and Portugal.
Julie Law and Stephanie Smith were part of the original Fuengirola shop that opened in early 2008.
When the original owner closed, these women were left without jobs. Julie had a husband and two teenage children to support.
Meanwhile, Stephanie had just split up with her partner and was left as a single parent of a toddler and a two-month old baby and a mortgage to pay.
Julie and Stephanie managed to get the money together to buy a franchise for themselves, a big gamble as the country was on the cusp of recession.
They laugh about it now, but they spent two months meeting with accounts, lawyers and landlords with a tiny baby in a pram and having to do nappy changes and feeding in the strangest places!
In fact, few took them seriously and many tried to put them off but as Stephanie said, "It just goes to show that you don't need to be Alan Sugar to make a business work.
By simply following our instincts and keeping to the basic principles of constant reinvestment into better stock, reasonable prices and good old-fashioned service, we have seen our business flourish year on year."
Yorkshire Linen has wonderful customers, many of whom know Stephanie and Julie's story and have supported them from the day the doors reopened, and for that they are truly grateful.
The staff are also a tremendous asset to the company.
First there's Thais (Tigs), one of the fixtures and fittings at Yorkshire Linen who was one of the original ladies whom Julie and Stephanie brought back within a few months of taking over.
If you need help with choosing curtains, Tigs is your girl!
Marie joined the team soon after, having worked together with Steph for many years in a previous job.
Marie originally came in part-time to help with paperwork and accounting but was out on the shop floor within a few months.
She is now another full-time member of staff, speaking fluent Spanish and German.
Next came Jo, who had worked in a senior position at Marks and Spencers and whose customer service is second to none, which makes Jo really popular with the customers. Last but not least there's Chris, Steph's brother, who gave up his job in the UK to come and run the website, www.yorkshirelinen.es.
The Yorkshire Linen team spent a long time looking for locations to open a second shop.
But as they couldn't settle on a good location and didn't want to split the team, they decided to expand with an online store which is run by Chris.
This has proved a great decision!
They now send off orders all throughout mainland Spain, and they plan to add greetings cards so that friends and family in the UK can order anything from the website and send it here to Spain as a gift, along with a greetings card!
The store itself now sells everything: Ready-made curtains and voiles, cushions , carpets, bedspreads, kitchenware (including Brabantia), decoration, lamps, fantastic beds and mattresses, Dirt-Devil products (vacuum cleaners and steam mops).
You can also find the best selection of bedding and towels, including the highest quality pure Egyptian cotton sheets and duvet covers from Belledorm, duvets and pillows from the Snuggle down of Norway, and much, much more.
They are happy to offer a range and quality of products that cannot be found anywhere else in the Malaga province.
They are always looking out for new products, however, so if you have any suggestions, simply let them know!
The future is looking bright at Yorkshire Linen.
The green shoots of recovery are popping up everywhere with new businesses springing up left, right and centre.
As Steph said, "A lot of women especially are taking the bull by the horns and opening up for themselves. All we can say is 'Go for it, ladies!'"
Both Steph and Julie are feeling fully focused; they're ready for a new chapter to begin in all aspects of their lives, so come out and be part of their experience at Yorkshire Linen!
Yorkshire Linen
Av. de Andalucia (Av Carmen Saenz De Tejada), Nave 11
29650 Mijas Costa
952 197 577