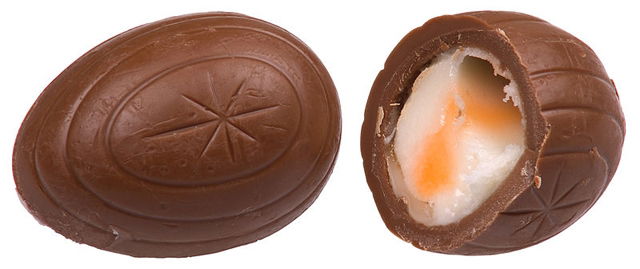 A Chinese takeaway in London is offering customers a quirky Cadbury's Creme Egg/deep fried wonton treat.
The takeaway, Zing Zing, previously had a hit with a Nutella and banana filled wonton, and are hoping that the £1 Creme Egg offering will be equally popular.
Zing Zing boss Mark Schlagman says that their latest concoction fits with the restaurant's bid to offer an alternative to the average Chinese takeaway.
Head chef Jeremy Pang created the unique treat by deep frying the Creme Egg in wonton batter, creating a crunchy treat with a soft gooey centre. 
Mr Schlagman, who recommends eating the wonton using chopsticks, says that the unconventional Creme Egg is truly delicious.
The restaurant boss says:
"It tastes absolutely delicious and is best eaten with chopsticks, although I probably wouldn't recommend dipping it in soy sauce.
"'We are trying to be a different kind of Chinese food delivery service, so we never use additives or MSG in our food."
The novelty wonton is prepared in a similar way to a traditional dumpling.
However, dieters should beware: the sweet and savoury dessert, at around 300 calories, is almost double that of an average Creme Egg, and much higher than the average 50 calorie wonton.